Mercedes Muñoz Saldaña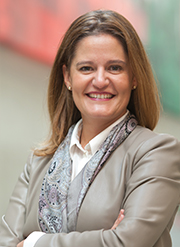 Coordinadora del Programa de Doctorado.
Docencia:
- Derecho del Marketing;
- Deontología del Marketing;
- Master en Comunicación Política y Corporativa-Entorno jurídico.
Categoría: Profesora Titular (ANECA, 2014).
Sexenios de Investigación acreditados-CNEAI: (2006-2011) - (2012-2017).
Edificio Biblioteca H.
Número de despacho: 0590 (Comunicación Pública)
Campus Universitario. 31080
Pamplona, Navarra, España
Tf: (34) 948 425 600 ext. 2035
Correo-e: mms@unav.es
Miembro del Proyecto de Investigación I+D+I (Retos de la Sociedad 2013-2016 /Prórroga 2017): https://tvautonomicas.com. (IP: Dña. Ana Azurmendi Adarraga).
Líneas de investigación:
- Regulación, autorregulación y corregulación en el ámbito de la comunicación.
- Definición y funciones del Public Service Media.
- Public Service Media y participación ciudadana.
- Deontología de la comunicación comercial en el espacio digital.
Últimas publicaciones: "El papel de las televisiones públicas autonómicas en el desarrollo de la gobernanza multinivel en Europa" (Preprint, Communication and Society, 2016); La financiación de RTVE: qué hay de permanente en un debate que fluctúa (Estudios sobre el mensaje periodístico, 2015: http://goo.gl/M4Hsi8); The importance of self-regulation and co-regulation in the new digital audiovisual market (Observatorio, 2015: http://goo.gl/ZsdPP0); "Análisis internacional de modelos de clasificación de contenidos: estudio comparativo y en profundidad del modelo holandés y británico" (en Criterios y Procedimientos de calificación de contenidos audiovisuales, 2015, pp. 17-22: https://goo.gl/GeKoZy); "Regulación de la Publicidad" (en Derecho a la información: el ejercicio del derecho a la información y su jurisprudencia, 2015, pp. 721-753: http://goo.gl/BzVmxw; "Rechtliche Rahmenbedingungen für Mediaagenturen in Spanien" (en Handbuch Mediaagenturen, 2015, pp. 434-447: http://goo.gl/4Iaiqn).
Miembro de la Asociación Española de Investigación en Comunicación e Investigador colaborador del Institute Of European Media Law.