Francisco Verdera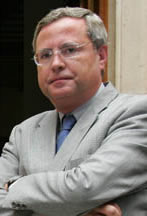 Profesor de
Communication History
Historia de la Publicidad y de las RRPP
Edificio Biblioteca H.
Campus Universitario
31080 Pamplona, Navarra, España
Tf: (34) 948 425 600 ext. 2033
Correo-e: fverdera@unav.es

Francisco Verdera Albiñana es profesor Communication History y de Historia de la Publicidad y de las relaciones públicas en la Facultad de Comunicación de la Universidad de Navarra a la que se incorporó en 1983.
Graduado en Historia en el Queen Mary College de la University of London (1980) obtuvo en 1986 la Licenciatura en Filosofía y Letras y en 1991 el Doctorado en Historia en la Universidad de Navarra. En 1985 fue nombrado profesor y Director de Estudios del Programa de Graduados Latinoamericanos (PGLA) de la Facultad de Comunicación de la Universidad de Navarra.
Entre 1991 y 1997 fue secretario de la revista académica Comunicación y Sociedad y subdirector entre 1997 y 2000. Coordinador de diversos cursos de licenciatura y grado en la Facultad de Comunicación, también se ha ocupado de su Oficina de de Intercambio de estudiantes. Ha sido examinador en distintos puestos en el International Baccalaureate Organization (Bath, Cardiff, 1983-1995), responsable español en el proyecto de educación a distancia a través del satélite Olympus de la Agencia Espacial Europea (Noordwijk, 1987-1991) y corresponsal en España de The European Institute for the Media (Manchester) para un proyecto de educación a distancia vía satélite en Europa (1986-1987).
La investigación del Prof. Verdera se ha centrado la historia reciente de España y la historia de la publicidad. Entre sus publicaciones destacan las siguientes: Conflictos entre la Iglesia y el Estado. La revista Ecclesia entre 1941 y 1945 (1995); Notas de Historia de la Publicidad. Desde 1970 a la publicidad digital (2011, con J. Bravo); Notes on Communication History (2011) (2013, 2º ed.) (2015, 3ª ed.) (2016, 4ª ed.); Historia de la Publicidad y las Relaciones Públicas en España (volumen I). De la nada al consumo. Desde los orígenes hasta 1960 (2010, con M. Montero y N. Rodríguez); "¿Un continente desarraigado en un universo multicultural?" en Fernández Collado, C. y Galguera García, L., La comunicación humana en el mundo contemporáneo (2008). Asimismo es autor de varias voces de The Advertising Age Encyclopedia of Advertising (2003).
El Prof. Francisco Verdera es miembro de la Asociación de Historiadores de la Comunicación (AHC), la Sociedad Española de Periodística (SEP), de la European Communication Research and Education Association (ECREA) y la Academia de la Publicidad.