Profesores
Carlos Muguiro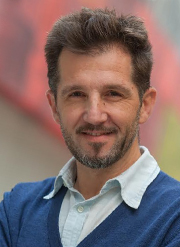 Profesor de:
Estética de la Comunicación Audiovisual.

Dirección de cine de ficción.

Programación y festivales de cine.
Edificio Bibliotecas Despacho 2580
Campus Universitario
31080 Pamplona, Navarra, España
Tf: (34) 948 425 600 ext. 2561
Correo-e: cmuguiro@unav.es
Doctor en Humanidades por la Universidad Pompeu Fabra de Barcelona (Premio Extraordinario de Doctorado), graduado en Comunicación por la Universidad de Navarra y en Dirección por la Escuela de Cine de la Comunidad de Madrid (ECAM). Ha realizado estancias de investigación en Departamento de Estudios Eslavos de la Universidad de Cambridge, en la Cinémathèque française y en el Instituto Cubano del Arte e Industria Cinematográficos (ICAIC).
Su área de investigación se centra en la estética del paisaje y su articulación a través de la pintura y el cine. En ese contexto ha trabajado particularmente la representación de la naturaleza en el cine ruso y soviético, a la que dedicó su tesis doctoral. Algunos de los autores que han centrado sus investigaciones son Alexánder Dovzhenko, Mark Donskoy, Boris Barnet y Grigori Kozintsev, entre otros. A su vez, ha extendido su investigación sobre el paisaje al cine experimental y documental.
Ha editado, entre otros, los monográficos Ver sin Vertov. (1955-2005) Cincuenta años de no ficción en Rusia y la URSS; Ermanno Olmi. Siete encuentros y otros instantes; El hombre sin la cámara/ The Man Without the Movie Camera. El cine de Alan Berliner/ The Cinema of Alan Berliner y Las formas de la Estalgia (cubana) y Mi abuelo murió leyendo a Pushkin (Antología de escritores cubanos post soviéticos). Ha publicado artículos en Vertigo, Revue de cinéma, Cuadernos Hispanoamericanos, Caimán Cuadernos de Cine y Cinema Comparat/ive Cinema.
Como comisario y programador cinematográfico, fue fundador del festival Punto de Vista, del que fue su director durante las primeras cinco ediciones. Ha sido responsable, entre otros, de los programas dedicados a Peter Hutton en el Museo Nacional Centro de Arte Reina Sofía de Madrid e Irina Evteeva en Zinebi. En 2005/2006 programó la retrospectiva Ver sin Vertov en La Casa Encendida de Madrid, que pretendía reconstruir la tradición del cine documental ruso-soviético de la segunda mitad del siglo XX. Asimismo, fue comisario de la primera retrospectiva de Alexánder Sokurov en España. Ha participado como jurado en Visions du Reel (Nyon), FidMarseille, DocLisboa, Festival dei Popoli (Florence), DocBsAs (Buenos Aires) y DocumentaMadrid, entre otros festivales.
Como cineasta, ha realizado junto a Sergio Oksman las películas Notes on the Other, Goodbye, America, A Story for the Modlins y O Futebol.