Carlos Barrera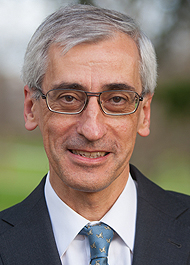 Professor of
Media and Politics in Contemporary Spain (Bachelor in Journalism)

News Media and Public Opinion (Master in Political and Corporate Communication)

Electoral Communication (Optional)

Spanish Political System (Optional)
Edificio Biblioteca H.
Campus Universitario
31080 Pamplona, Navarra, España
Tf: (34) 948 425 600 ext. 2034
Correo-e: cbarrera@unav.es
I received my PhD in Communication in 1991, and since then I have focused my research on the history of media and politics in Spain from Franco dictatorship to the present day. I have published several reference books on this subjetc, such as Periodismo y franquismo (Ediciones Internacionales Universitarias, Barcelona, 1995), Sin Mordaza: Veinte años de prensa en democracia (Temas de Hoy, Madrid, 1995), El diario Madrid: realidad y símbolo de una época (Eunsa, Pamplona, 1995), e Historia del proceso democrático en España (Fragua, Madrid, 2002). Besides, I was editor of the handbook Historia del Periodismo Universal (Ariel, Barcelona, 2004), and co-author of Historia del Periodismo Español with José Javier Sánchez Aranda (Eunsa, Pamplona, 1992), and La Vanguardia, del franquismo a la democracia (Fragua, Madrid, 2006) with Anna Nogué; El controvertido Diario 16 de Pedro J. Ramírez: de la transición al felipismo, 1980-1989 (Fragua, Madrid, 2018) with Raquel Ramos.
As an expert in the history of journalism education in Europe and the United States, I wrote a number of book chapters and articles in international journals on this topic, and also the history of my own school: Historia de la Facultad de Comunicación de la Universidad de Navarra. Medio siglo de enseñanza e investigación, 1958-2008 (Eunsa, Pamplona, 2009).
I served as Director of the Master's degree in Political and Corporate Communication between 2004 and 2013, and later since 2018. I have collaborated as a political analyst in various national and international media. Between 2013 and 2016 I was the editor of Communication & Society, the academic journal of the University of Navarra's School of Communication. I am member of several national and international associations, among them: IAMCR, ECREA, AEJMC, and the Spanish Asociación de Directivos de Comunicación (Dircom), Asociación de Comunicación Política (ACOP), Asociación Española de Investigación de la Comunicación (AE-IC), Asociación de Historia Contemporánea, and Asociación de Historiadores del Presente.
I have been the supervisor of several doctoral dissertations, and also head of research projects in my field. Author of more than one hundred book chapters and articles in journals, I serve as a member of the editorial board of journals like Javnost-The Public, Journalism and Mass Communication Educator, and Newspaper Research Journal, and also of the book series "History of the Media" edited by Palgrave MacMillan. I have acted as reviewer for a number of prominent international journals like Journalism & Mass Communication Quarterly, Television & New Media. Journalism Practice, and Media History, and also for other communication and history journals published in Spain. I participate regularly as a reviewer of research projects for ANEP, the Spanish Agency of Evaluation and Prospective.
For eight years (1996-2004) I served as a member of the board of the Asociación de Historiadores de la Comunicación,. Later, I was elected Vice-Chair (2004-2008) and Chair (2008-2012) of the History Section of IAMCR (International Association for Media and Communication Research), the oldest worldwide association of communication researchers. Between 2014 and 2016, I also served as vice-chair of the temporary working group "Journalism and Communication Education" of ECREA.
I was visiting scholar at Northwestern University (Evanston, Illinois, USA) for four months in 1995, visiting lecturer at University of Sheffield (UK) between February and June 2003, and visiting scholar at Rutgers University (New Brunswick, New Jersey, USA) since July to December 2010; and Fulbright visiting scholar at the George Washington University (Washington DC, USA), since January to June 2018. I also gave some lectures, thanks to Erasmus exchange program, at the universities of Paris XII (France), Zagreb (Croatia), Munich and Nuremberg-Erlanger (Germany); and at the University of Minnesota within the Fulbright program.
As a long-distance runner, which has allowed me to survive in the middle of so many academic and managerial activities, I have run seventeen marathons (with a personal record of 3:04:25 in September 2007 in Saragossa), and lots of half-marathons (personal record of 1:23:51 in May 2004 in Pamplona). I felt extremely happy after running the New York marathon in 2010, taking advantage of my research stay in New Jersey. I have also been the captain of Nipho, the indoor soccer team formed by professors of the School of Communication, since its inception in 1993 until 2014.