Meet our Staff
Letter from the Dean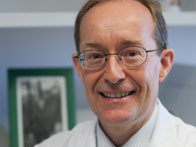 Welcome to the School of Sciences at the University of Navarra.
Since the opening of the School of Sciences in 1958, our aim has been to train students to become teachers and researchers with a deep sense of professionalism who carry out comprehensive research in the field of the experimental sciences that is useful to and serves people and society.
On this webpage, you will find information about who we are, our study programs, the research we carry out and our primary activities. We strive for excellence in education in Biology, Environmental Sciences, Chemistry and Biochemistry (with a biomedical focus), with innovative proposals such as the Double Degree in Chemistry-Biochemistry and the Double Degree in Biology-Environmental Sciences, such as specialization and international diplomas that take advantage of our University's interdisciplinary environment. The education our students receive is supported by well-grounded and consolidated research, with master's degree and doctoral programs in the areas of animal and plant biodiversity and environmental management, biomedical research, applied chemistry, and complex systems.
We are working to make our programs increasingly available to more students from other countries, and towards hiring more international professors and incorporating more bilingual teaching. Strong relationships with centers and universities in Europe, the Americas and Asia enable students and researchers to study abroad and participate in exchanges with internationally renowned centers.
The University is located in Navarre, one of the regions in Europe with the greatest degree of biological diversity and variety of landscapes and ecosystems. The School of Sciences is located in an area of the university campus especially dedicated to experimental and health sciences, where we work closely with other schools and research centers. All of this enables us to offer a highly practical education that is complemented with a wide variety of internship and employment opportunities to promote and bring about the professional development of our students.
Sometimes, what matters most cannot be reduced to numbers or indicators: eagerness to work better each day; mutual learning between professors and students; palpable passion in classrooms and laboratories; a demanding yet pleasant work environment; a sense of companionship and willingness to advance on a path of personal and professional development; and the ease of communicating, sharing and working together. We are committed to creating an interdisciplinary environment, in a globalized and international context with a marked interest in academic research and increasingly close and fruitful relationships with industry.
In sum, today as always, we seek to continue doing research to know more and serve better.
Dr. Luis Montuenga
Dean of the School of Sciences
Contact: C/ Irunlarrea, 1 31008 Pamplona Spain +34 948 42 56 00 (ext. .806222) ciencias@unav.es
Learn about the mission, origin, inspiration and values of the University of Navarra. Go to the website