Vice President Pablo Sánchez-Ostiz: "Personalized teaching and mentoring will be more important than ever"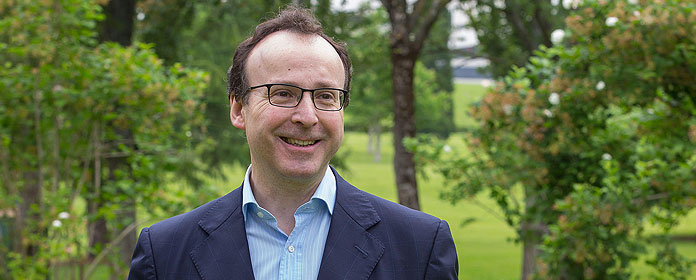 Pablo Sánchez-Ostiz, Vice President for Academic Affairs.
FOTO: Manuel Castells
In the teaching plan approved for the next academic year, the University of Navarra is preparing for two possible scenarios: face-to-face classes with social distancing or face-to-face classes with some students in the lecture hall and others attending classes via other platforms. Whatever the case may be, a fundamental aspect of this plan is innovation in teaching. In this interview, the Vice President for Academic Affairs, outlines the plan in some more detail.
What has the teaching experience been like over the last three months?
We are living through exceptional times and the response of our professors, students and other staff members has also been exceptional. Of course, we have experienced some problems but we have learned where improvements are needed, but our professors have shown extraordinary commitment. Efforts have been made to provide teaching of the highest quality, prioritizing health concerns and taking the personal situations of each person into account. The students have behaved very responsibly in the midst of such difficulties, and it is at times like these that the lengths people are willing to go to become clear.
What teaching scenarios are foreseen for the next academic year?
We are monitoring the development of the disease with a great deal of caution, and following the recommendations issued by the health authorities. Based on current data, it is prudent to plan for two possible scenarios from September: face-to-face classes with social distancing or face-to-face classes with reduced capacity in the lecture hall and other students, depending on the circumstances, will access the teaching via other means.
And how will this be implemented?
In March, we were able to make sudden changes, thanks to the commitment and effort of all. However, now we would like to build a more planned model: get feedback from professors and students through surveys, reflect with experts, plan with each School and offer training to other university services. In short, we want to frame this situation as an opportunity to continue improving our teaching. We can't ignore the fact that there are difficulties and limitations. However, it is also an opportunity to adapt our teaching, combining face-to-face classes with other teaching methodologies whose goal is comprehensive student development, without necessarily having to be in the same shared physical space at the same time. Many effective teaching strategies have been put into practice: team-based learning, flipped learning (the student prepares the class in advance), service learning, case-study resolution, cooperative learning, etc.
It would seem as though we are going toward teaching in smaller groups
Yes, it is about teaching in smaller groups, where the student takes on a more proactive role and the professor shapes the learning process from a new, leadership perspective. Personalized teaching and mentoring are going to be more important than ever, and this presents us with another opportunity: to use our knowledge and experience in personalized engagement as professors with our students. By taking appropriate measures, this model is compatible with our philosophy of an "on-campus university life experience", with classes, conversations between professors and students, cultural activities, voluntary work, etc.
What decisions have been made to re-design teaching for undergraduate studies?
To give a sense of stability in these uncertain scenarios it has been decided to continue with the agreed teaching plans and timetables. The physical face-to-face teaching load (for students in classrooms) has been reduced to 5 hours per ECTS credit. The goal of these measures is not to increase the workload of the professor or the students. We can use the hours that are not spent in the classroom to do other activities remotely (streamed or recorded classes, seminars, remote project work, case studies, etc.).
What role do the Schools play in these changes?
The Schools play a fundamental role and they have been working very hard already over the last few weeks. Working groups have been set to organize the new ways of teaching, to redesign subjects and offer a support network for professors in coordination with other university services, to compare notes, solve problems and share solutions. It is a time of shared leadership, to put commitment above uncertainty.
What advice would you give to a professor to deal with teaching in the coming academic year?
I would encourage professors to be realistic and flexible, and motivated to enjoy the experience. Personally, I have learned a lot from my colleagues and students. I think that with our imagination and talent we can reinvent the way we teach. This crisis has shown us that the solution is beyond technology; online teaching has its limits. We have learned that the key is to use technological tools (Academic Virtual Learning, Google Meet, Panopto…) as supports but to go beyond them through new teaching strategies. There are many and various teaching methodologies, which may be adapted to one's own teaching style, according to the specific characteristics of each professor and subject.
What type of help will professors receive?
All Schools and university services are working on a plan to support professors: the Quality and Innovation Unit will be providing training for professors, administrators and services from 1 June 2020, over 3 weeks; Library Services and EUNSA Publications are available to the Schools to help create electronic resources for subjects and course handbooks; IT Services are designing a plan to meet technological support needs; and the Campus Security and Maintenance Services is working to ensure that our buildings are safe learning spaces for all.