Cinco nuevos profesores en la Facultad de Económicas
Cinco nuevos docentes se han incorporado al Claustro académico de la Facultad de Económicas de la Universidad de Navarra. Asier Aguilera-Bravo y Guillem Ripoll, forman parte del departamento de Economía. Por su parte, Goretti Cabaleiro, José Azar y Jiyuan Dai han comenzado su docencia e investigación en el departamento de Empresa.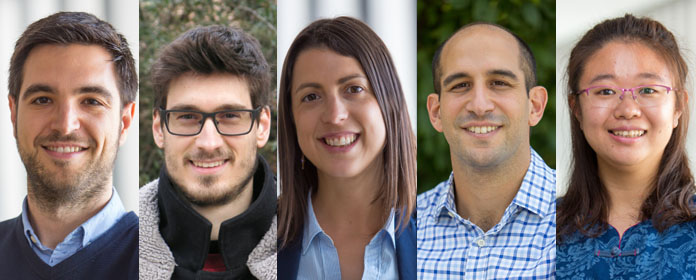 De izquierda a derecha: Asier Aguilera-Bravo, Guillem Ripoll,Goretti Cabaleiro,José Azar y Jiyuan Dai.
FOTO:
Asier Aguilera-Bravo es doctor en Economía (Cum Laude) por la Universidad Pública de Navarra. Además,es Máster en Economía por la Washington University de St. Louis (EEUU) y Máster en Economía y Finanzas por la Universidad de Navarra. El profesor Aguilera-Bravo ha complementado su formación académica realizando una estancia en la University of Pennsylvania (EEUU) y asistiendo a cursos organizados por el Banco de Francia, el CEMFI y el Study Center Gerzensee (Suiza). Su investigación se centra en cuestiones relacionadas con la Macroeconomía y la Economía Monetaria.
Guillem Ripoll es doctor en Política, Políticas y Relaciones Internacionales en la Universidad Autónoma de Barcelona (UAB). Anteriormente, cursó un Máster en Investigación en Ciencias Políticas en la Universidad Pompeu Fabra (UPF) y una licenciatura en Ciencias Políticas y Gestión Pública (UAB). Su investigación gira en torno a la expansión del concepto de motivación de servicio público; específicamente, investiga la relación entre motivación y ética. Ha sido asistente de enseñanza para cursos como Técnicas de investigación o Administración pública y políticas públicas.
Goretti Cabaleiro es doctora internacional, mención Cum Laude, en Economía de la Empresa y Métodos Cuantitativos por la Universidad Carlos III. Con estancias de investigación en la Boston University (EEUU) y en la Bocconi University (Italia). Con un postgrado de Mastering Design Thinking por el Massachusetts Institute of Technology, MIT, Sloan School of Management (EEUU). Cuenta con una experiencia docente internacional de más de 10 años, en grados, en postgrados y en formación online en la Universidad Alberto Hurtado, en la Universidad Europea de Madrid en Chile (IEDE) y en la Universidad Carlos III de Madrid. Durante los cinco últimos años, además, ha sido evaluadora de proyectos de investigación y becas en la Comisión Nacional de Investigación Científica y Tecnológica del Gobierno de Chile. Sus líneas de investigación prioritarias son gestión estratégica de la innovación, mercados de la tecnología y estrategia empresarial. Su investigación se ha publicado en journals tales como Technovation o Industrial Corporate Change.
José Azar es doctor por la Universidad de Princeton. Trabajó en Charles River Associates en Antitrust and Competition Practice y posteriormente se incorporó al IESE Business School. Es un economista especializado en antimonopolio y gobierno corporativo. Su trabajo estudia las implicaciones para la competencia del aumento de la propiedad común de las empresas por parte de gestores de activos grandes y diversificados. Recientemente, ha realizado investigaciones sobre la concentración y el poder en el mercado laboral. Es Research Affiliate del think tank Center for Economic and Policy Research (CEPR) y miembro de Economics for Inclusive Prosperity (EfIP).
Jiyuan Dai es licenciada en Finanzas por la Northeast Agricultural University (China), es máster en Contabilidad, Gestión Financiera y Control por la Bocconi University (Italia) y doctora en Administración por el IESE Business School. Sus intereses de investigación de son el gobierno corporativo, la supervisión bancaria y su aplicación.