The artist Paul Elliman encourages students to develop their "critical thinking" when creating design
Design's degree second year students attend to this lecture which its objective was to know the ambivalence between Design and Art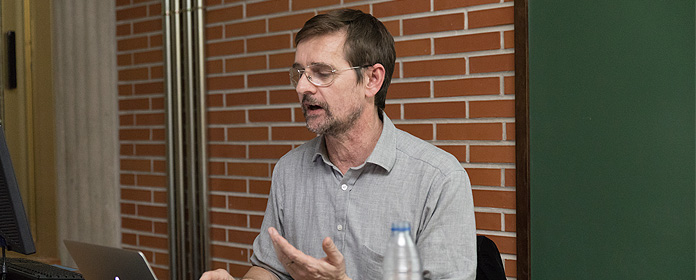 London artist, Paul Elliman, thought a class to Design's second year students of the School of Achitecture of the University of Navarra, where he presented his more than 30 years developing his career through examples, explaining the ones at the beginning of his career and the most recent ones.
Through this examples it can be seen his constant concern about language and its relation to body as work material. This material can be found in a graphic way such as posters, artist´s books, etc; or through voice. Elliman illustrated this idea with a podcast which included different voices imitating siren sounds of different car police. Elliman also explained the progress of Found Font, his most recognised work.
One of your most significant work is Found Font which is still growing nowadays. What is the key of this success?
Anything is successful if you do it. However, I´ve never think in things like that. The thing with Found Fonts is that I am not a designer, I am irritated by design, because it is a mechanism to control how I exist, how I think, how I become a citizen as a consumer… I make work that attempt to question certain patterns of thinking that controls Design , and are more control by computers when designing.
I am more interested in Design as a form of self defense. I think people should study Design in a way that we would study sociology or anthropology in order to have a critical sense of how the world exist, how we are part of the collectivity, and how you can't live outside of the time people are in. You study it as a subject in order to have this critical awarness of what it is so you can understand why you go align with certain things. People should study Design to see how they are produced by the world around them, study this subject more as a form of self defense than as a path to creative future freedom.
As a teacher you are in contact with students that will be future designers. How do you see the change of Design all over this time?
I worked before we used computers. Generally, I am interested in the impact of the computer on the world around us. The computer has changed everything, definitely. I am lucky in that sense, lucky to exist in a time when computer was not so accessible. Things are better and worse today since that for all generations.
What advice would you give to our students at School of Arquitecture to progress on their career?
Just do it in your own way.
Noticias u Opiniones relacionadas is temporarily unavailable.