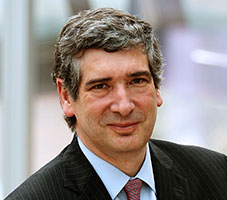 José Antonio Guzmán
President. Universidad de los Andes
LECTURE
José Antonio Guzmán is President of the Universidad de los Andes since 2014. He was recently reappointed for a second term as President. He has been associated to this institution since its inception in 1990.
Jose Antonio Guzman served as Vice-President for Academic Affairs from July 2006 to July 2010. Prior to the office of Vice-president, he was member of the executive board of Universidad de los Andes, from 2004 to 2006. From 1991 to 1994, Guzman was Assistant Professor of Constitutional Law.
In 1991, José Antonio Guzman received his J.D. degree from Universidad Católica de Chile. He earned a Master of Education from Harvard University in 2011, and a Doctorate in Education at the University of Pennsylvania in 2013. Under the advisement of Professor Robert Zemsky, Guzman wrote his doctoral dissertation about strategies for fostering the teaching quality in Chilean universities.