Rafael Alférez: "If your brand has a powerful message, don't ever forget it"
School of Economics and Business Administration's Marketing and Sales Club invites BMW's Marketing Director for Spain and Portugal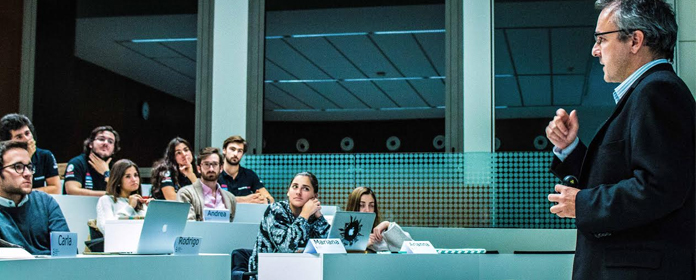 Rafael Alférez, Marketing Director at BMW, started his lecture by talking about his own career, which initially had very little to do with marketing. He began in consultancy and, as he put it, "The inertia of life brought me to my passion: cars".
BMW has 220 employees in Spain, 42 of whom are on the marketing team. That department is divided into four areas, which Alférez described in detail: Product, Communication, Events and Dealership Marketing.
He briefly described his marketing actions by saying, "When you work at a subsidiary, you have a clear-cut commercial goal. You're evaluated based on sales. When it comes to marketing strategy, sales are the steak and creativity is the potatoes". He continued to stress the importance of ensuring you take effective steps: "If you're not seeing your marketing strategy reflected at the point of sale, it's worth nothing".
He also spoke about measures used to adapt supply and demand. He said, "If you've been running a long campaign based on price, you have to go back to basics so people fall in love with your brand again".
BMW
"Keeping an eye on your media plan is very important", Alférez explained. He said there were two ways to optimize media buying: doing media audits to control costs and using indicators to gauge communication effectiveness.
He also emphasized the importance of experiences as a way to create relationships and rapport between the customer and the brand. "If you play a sport and you have a BMW, you're going to have the best sports experience of your life". He also stressed the importance of placing your brand's powerful message front and center, as in the case of BMW's well-known message: "Do you like to drive?"