Fermín Aldaz: "We're working for a fresher world"
School of Economics and Business Administration's Marketing and Sales Club receives Florette executive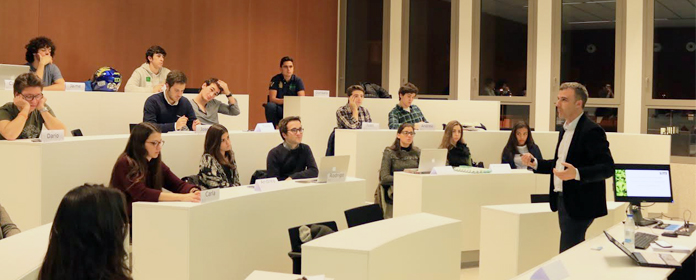 FOTO: Pablo Ruiz de Temiño
Fermín Aldaz, the Sales and Marketing Director at Florette, gave a talk to the students in the Marketing and Sales Club at the University of Navarra, in which he summarized the philosophy and corporate culture at Florette, in addition to outlining how the company's marketing and sales processes work.
In Spain, Florette is a market leader in vegetable production and sales. With 7,000 points of sale and lettuce sales topping 500,000 bags a day, it has a strong presence throughout Europe.
Aldaz discussed companies' need to adapt to changes in their environment. "The only constant in life is change", he said. "At my company, every employee is considered a driver of change". Aldaz also discussed the importance of setting clear goals and taking a cross-cutting approach on your team to carry out tasks efficiently and productively.
He said that the corporate culture was central to his vision of being "the brand people choose every day". According to Aldaz, Florette's mission can be neatly wrapped up in the phrase "we're doing something great together", because his intention is to encourage healthy eating by selling healthy products.
Marketing and Sales at Florette
Aldaz described the context in which Florette flourishes: "Salad consumption has grown by 15%, because customers are willing to pay more for premium foods and healthy habits". Salads and mixed lettuce bags make up the core business, Aldaz said, though Florette's snack line is giving salads a run for their money.
The perishable nature of Florette's products makes maintenance and preservation problematic. The rotation period is therefore very fast. Florette bases its sales approach on the quality of its fresh ingredients.