Nutriomics and Biomarkers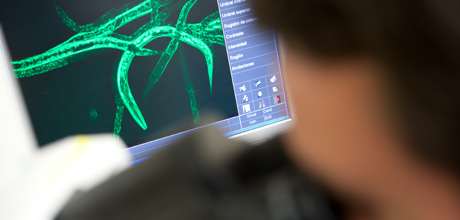 The main objective of this line of research, which forms part of the NUTRIBIOSIM research group (Nutridynamics and Bioactives in Metabolic Syndrome), is to identify, characterise and study the biological activity of different natural sources of bioactive compounds (BACs) with therapeutic potential or prevention of obesity and its associated comorbidities.
These BACs are of great interest both for the nutrition industry and the pharmaceutical industry as they could be the basis for the development of new medicines, supplements or functional foods.
The activities in this research area are aimed at research into products with greater efficiency, bioavailability or stability and with fewer side effects than those already known and that can be used in diseases related to obesity and its associated metabolic comorbidities (type II diabetes, cardiovascular disease, fatty liver and others).
To this end, activity studies of new extracts or molecules in different models (C. elegans, rats/mice, etc.) are developed, with the aim of selecting candidates before they are evaluated in nutritional intervention studies in humans, as well as examining the potential mechanisms involved or their bioavailability.
| | |
| --- | --- |
| | Fermín Milagro Yoldi Director of the Nutriomics and Biomarkers Project fmilagro@unav.es |
General contact:
C/ Irunlarrea, 1 31008 Pamplona Spain +34 948 425600
cin@unav.es