Obesity and metabolic syndrome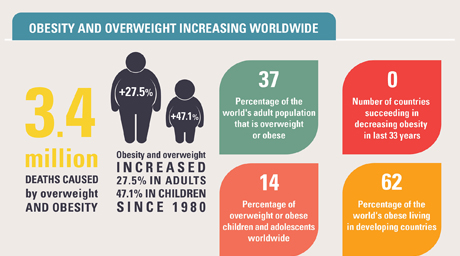 The relationship between diet, health and lifestyle has become a top priority for many governments and one of the main driving forces behind food innovation as a result of the massive increase in obesity in the world's population, now categorised as a pandemic.
The World Health Organization (WHO) estimates that 1.4 billion people in the world are overweight, more than 500 million people are obese and 347 million have diabetes.
Globally, excess weight in adults is found in 44% of cases of diabetes, 23% of coronary heart disease and 7-41% of certain types of cancer. To this we must add that one of the consequences of obesity is metabolic syndrome (MS), as the relative risk of developing insulin resistance, diabetes, dyslipidaemia, fatty liver, high blood pressure and coronary disease is greatly increased in obese people. In Spain, around half the adult population and over a quarter of children are overweight or obese.
According to certain studies, the direct costs associated with obesity account for between 0.7% and 2.8% of total national healthcare costs (and up to 9.1% when costs associated with excess weight, calculated as BMI > 25, are included). In addition, it has been found that obese people (BMI > 30) can generate medical costs of around 30% more than people at a healthy weight.
The prevalence of obesity-related diseasesis increasing exponentially, and it is essential to tackle this issue, not only through pharmacological treatments but also through prevention in order to delay its onset, thereby reducing risk. This is a task that the food, pharmaceutical and nutraceutical industries can collaborate on together and play an important role.
General contact:
C/ Irunlarrea, 1 31008 Pamplona Spain +34 948 425600
cin@unav.es