UNAV Users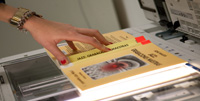 Documents can be requested by members of the University of Navarra who require documents from other libraries: Teaching and Research staff, Administrative and Service Personnel, Alumni and authorized visitors. Students must attend a training session provided by the Library Service to create an account for this service.
The session lasts approximately 30 minutes and is given at two different times and places to facilitate attendance:
Main Library (Media Library): Thursday at 16:00. Please confirm attendance to Ana León.

Science Library (Learning Support desk): Wednesday at 14.30. Please confirm attendance to María Marquínez .
Préstamo interbibliotecario
Contact: Universidad de Navarra. Departamento de Préstamo Interbibliotecario. 31009 Pamplona España Humanidades - S. Consulta: (Seminario 1D) 948 425 600 Ext. 802421 Ciencias: 948 425 600 Ext. 80 6258 pib@unav.es