Depósito de trabajos fin de grado o máster

El depósito de Trabajos Fin de Grado y Trabajos Fin de Máster (TFG/TFM) en Dadun lo realizarán las secretarías de cada una de las facultades. Para poder depositar un TFG/TFM en Dadun:
Cada facultad seleccionará los TFG/TFM a depositar en Dadun atendiendo a criterios de calidad, originalidad e interés.

La subida de los TFG/TFM al repositorio se realizará antes del final de septiembre del año en el que se han presentado.

Los autores de los trabajos que vayan a ser depositados deberán firmar, con carácter previo a su depósito, el documento Autorización para la publicación de TFG/TFM en Dadun.

Los autores de los trabajos depositados en Dadun que lo deseen pueden solicitar al Servicio de Bibliotecas un certificado que acredite el depósito a través del correo biblioteca@unav.es.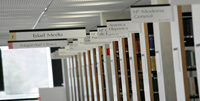 This room is intended primarily for researchers (e.g. faculty members, doctoral and master's students) in the Humanities and Social Sciences. In addition to the collection available for direct access, over 255,000 titles located in the stacks are accessible through electronic request, including digital journals, databases and more than 55,000 e-books.