Proyectos de investigación

Gran parte de los los proyectos de investigación financiados con fondos públicos incorporan la condición de que los resultados sean publicados en acceso abierto.
Proyectos internacionales: programa Horizonte 2020. Los investigadores beneficiarios de un proyecto de Horizonte 2020 deben asegurar el acceso abierto a todas las publicaciones científicas revisadas por pares donde se den a conocer los resultados de investigación fruto de esa financiación.

Proyectos nacionales y regionales. La Ley 14/2011, de 1 de junio de 2011, de la Ciencia, la Tecnología y la Innovación, establece en su artículo 37 la obligatoriedad de depositar en acceso abierto los resultados de la investigación financiada con fondos de los Presupuestos Generales del Estado.

Proyectos de la Universidad de Navarra: Proyectos Piuna. Deberá realizarse el ingreso de la producción científica en el repositorio Dadun.


documentos resultantes de proyectos de investigación depositados en Dadun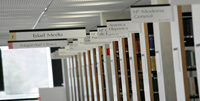 This room is intended primarily for researchers (e.g. faculty members, doctoral and master's students) in the Humanities and Social Sciences. In addition to the collection available for direct access, over 255,000 titles located in the stacks are accessible through electronic request, including digital journals, databases and more than 55,000 e-books.