Laptop and Printer Use
How do I print?
Install the desired photocopier/printer on your computer. Check the manual to configure the printer installer for: Windows.

You can pick up a photocopy card at any campus shop.

Once the printer is installed, you can start printing: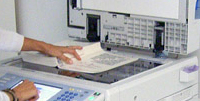 Select the print option in the program you're currently using:
You will be asked to enter you username (e.g. pperezm) and password (which must be a number, e.g. 1234).

Go to the corresponding photocopier/printer.

Insert your card.

Select the print mode (F4). Then, select the username from which the job was sent in the "Trabajo de impresión" tab.

Press the green button to start printing.

Collect your copies and remove your card.

If you experience a problem printing (e.g. jamming, no paper or ink), go to the Amigos, Architecture or Sciences Building copy center. More information here.
Contact: University of Navarra Campus. Main Library 31009 Pamplona Spain +34 948 425 600 (Ext. 802065) bibhumcons@unav.es