Book Request
In order to view works held by the Special collections room, please:
1. Find the works and request them through the Catalogue:
Find the work you are interested in.

Click on the request or reserve button.

Enter your identification information (name and ID number).

Write the initials of the collection point (HUFA) in the bottom box.
2. Come to the Special collections room at the assigned time and present your university ID
The book service is only available once a day, at 10 a.m. (requests received after 9:30 a.m. are carried out the following day).

Only books in the UN, FBJE and CTA collections may be requested at any time of day. They can be picked up at 10:15 a.m., 11:15 a.m., 12:15 p.m. and 1:15 p.m., so long as they are requested with 30 minutes' notice.
3. Use the material in accordance with Archive rules.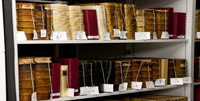 Contact: University of Navarre. Main Library, Seminar 4 D. 31009 Pamplona Spain 948 425 600 (Ext. 802488) bibhumfa@unav.es