Special Collections Room
The Special Collections Room holds manuscripts and printed documents that date back to before 1835, as well as other collections that, for various reasons, need to be stored in a specific way.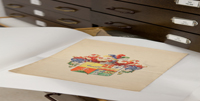 The Special Collections Room is open to:
University postgraduate students, professors and employees.

Alumni who have completed their studies and have been granted access for research purposes.

Guests (users visiting under partnership agreements or visiting researchers) who have been granted access.

Members of the Friends of the University of Navarra, Inc.
Works published between 1501 and 1800
Works published between 1801 and 1900
Contact: University of Navarre. Main Library, Seminar 4 D. 31009 Pamplona Spain 948 425 600 (Ext. 802488) bibhumfa@unav.es