Exhibitions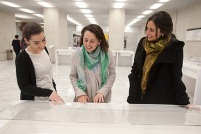 Several exhibitions, which are generally dedicated to antique books, are held in the entrance hall of the New Library each year.
Since 2004, over 20 exhibitions have been held, the majority of which have also had virtual versions.
Complete list of on-site and virtual exhibitions from the Special Collections Room.
On-site exhibitions at the Library
2015

Los Bañales: the rediscovery of a Roman city [Guía]
Special Collections Room exhibitions