Tavera Classic Collection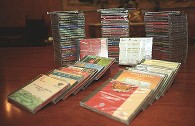 Tavera Classic Collection is a digital collection that contains the electronic edition of 1,800 books covering various historical periods and themes of Ibero-American countries and their cultural communities.
The University of Navarra has the complete collection, comprising a total of 79 CD-Roms, which includes facsimiles of about 1,800 titles, mostly published before 1900 and reproduced, with a few exceptions, from the unabridged text.
Many of the titles in the collection are in the Clásicos Tavera Library in printed form.
Access to this collection is available online through the library catalogue which retrieves the full text version. We present a list of titles that make up the collection (In Spanish).
To access the collection from outside the University you must use your ID and password provided by the Computer Services.
Serie I. Iberoamérica en la Historia
Serie II. Temáticas para la Historia de Iberoamérica
Serie III. Historia de España
Serie IV. Historia de España en sus Regiones Históricas
Serie V. Temática para la Historia de España
Serie VI. Historia y Lingüística Portuguesa
Serie VII. Lingüística y Antecedentes Literarios de la Península Ibérica
Serie VIII. Fuentes Lingüísticas Indígenas
Serie IX. Ciudades Representativas del Mundo Ibérico
Serie X. Fuentes Históricas de la Bibliografía Iberoamericana