Bibliothek der deutschen Literatur
Bibliothek der deutschen Literatur: Mikrofiche-Gesamtausgabe nach den Angaben des Taschengoedeke. Munich: K.G. Saur, 1990- (19.963 microfiches).
Incorporation to the catalogue
In November 2004, bibliographic records of the individual microfiche collection of the Bibliothek der deutschen Literatur which were acquired several years ago were incorporated into the automated catalogue. This way, it is possible to search all works in this collection by author and title, because up until now its index was only available in the printed catalogue in the Multimedia Room (ANNEXED Shelfmark 000,134 ).
Holdings and microfilming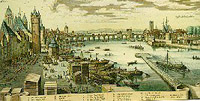 The microfiche edition project of the Bibliothek der deutschen Literatur started in 1990 by the editorial K. G. Saur in collaboration with the Kulturstiftung der Länder. Basically, it includes literary works and other scientific works from the German sphere (especially History, Philosophy, Theology, Musicology, Political Science, Natural Sciences and Medicine) published between 1650 and 1900, some of which are from older authors. In total, 15,212 bibliographic records were included from works of 27,000 volumes, with an estimated number of 2,500 authors. It contains the works mentioned in Der Taschengoedeke, an authoritative source of the first German editions, compiled in 1924 by Leopold Hirschberg. In addition to the original texts, always in the first editions, are also the first German translations of foreign works, particularly in France, Italy, Britain and the United States.
Location and access to works
All microfiche have the MF.mH000.074 shelfmark and are classified in the Multimedia Room, where they can be requested and played into the equipment installed in that room. In each bibliographic record, after the shelfmark there is a letter and number with which you can find the microfiche among the collection.
The catalogue is searchable by author or title of each work. By entering "Bibliothek der deutschen Literatur" in the title field, you will get the complete listing of items, arranged alphabetically by title