Copying, printing and scanning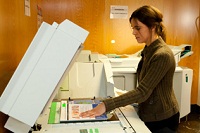 Scanning
In the Research Area, past the journal shelves, users have free access to two scanners that allow for digitization of printed material.
Copying
There are two self-service copiers/printers inside the Library (next to the lockers) and another in the entrance hall to the building.
Printing
You can print to the three copiers/printers from the Library computers. Both machines also allow you to print documents from USB (PDF format).
The self-service copiers/printers work with cards, which can be purchased at the shop in the Sciences Building (Hexagon Building) and reloaded at the Library.
More information about reprography.
How do I print?

To print, follow these steps:

1) Select the print option in the program you are using and choose one of the three Science Library printers:

Ciencias 1.

Ciencias 2

Ciencias Hall 3

2) Go to the copier/printer.

3) Insert your card into the reader on the machine.

4) Use the menu to select the following:

Print mode.

Your username.

Your document.

Press the green start button to print.

Take the printed sheets and remove your card.

If the printer is out of paper or toner or won't print, notify the Science Building copy shop by calling extension 806597.
Contact: University of Navarre. Science Library Building (South Entrance). 31009 Pamplona Spain +34 948 42 56 00 (Ext. 80 6229) prestamocien@unav.es