337 students of the University began the course with an Alumni scholarship and 86 of them were fellows for the first time
The total funds allocated to the program this year are 2.5 million euros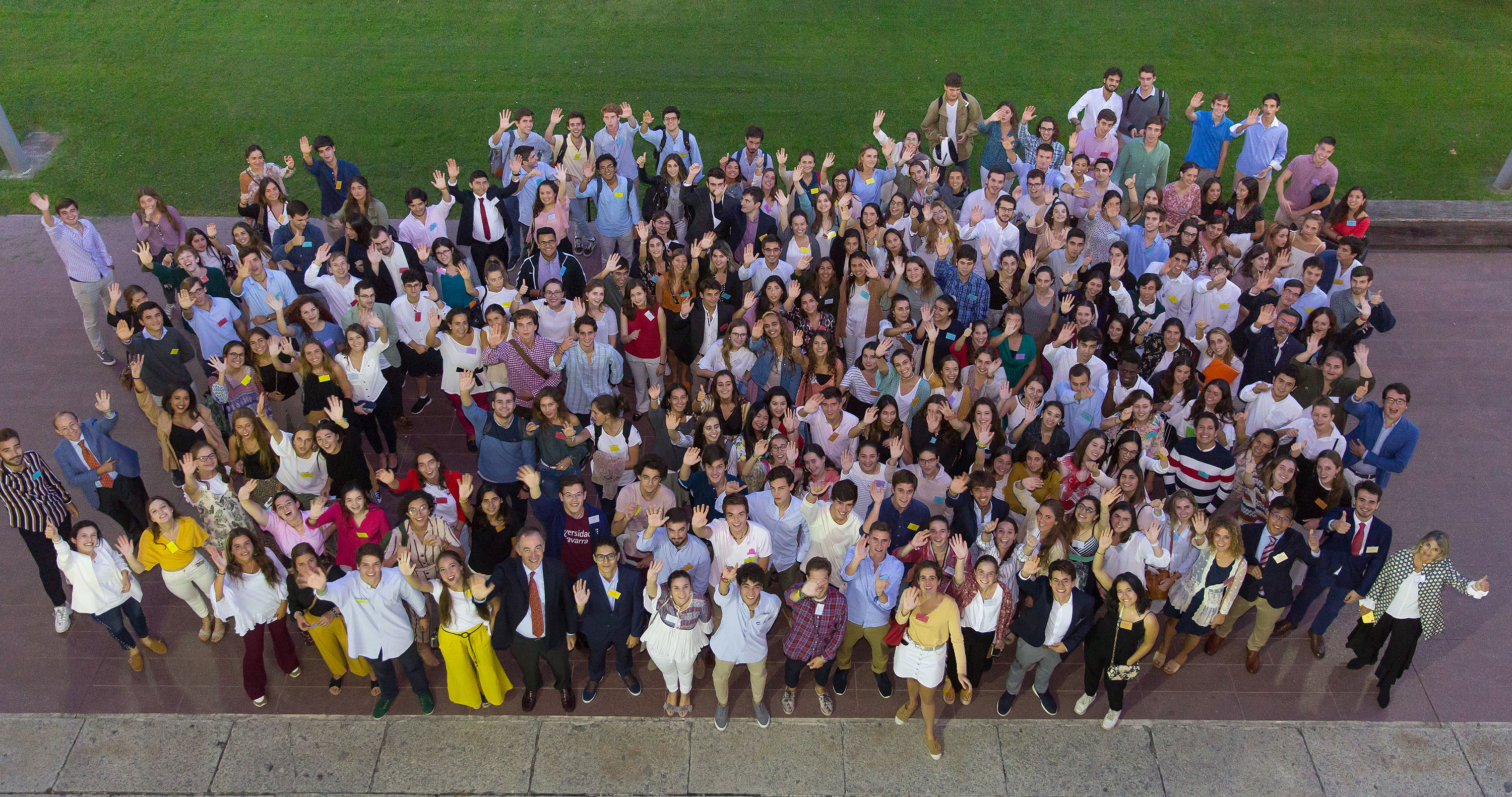 Those attending the event, from the Central Building.
FOTO: Manuel Castells
The University welcomed the 337 students, from 20 countries, who are studying this year thanks to an Alumni scholarship. This course has awarded 86 new scholarships, amounting to 337 the total number of student scholars in the 2019-20 course. Also 2.5 million euros were allocated for the program, which mostly comes from the Association of Friends of the University, benefactors such as Santander Universities, and entities such as Fundación ONCE, Caja Rural de Navarra, Banco Pichincha, IEISA Foundation and Bolar Foundation, among others.
The event, held in the Aula Magna of the Central Building, was chaired by Tomás Gómez-Acebo, Vice Chancellor of Students; Natalia Couto, director of the Alumni Scholarships program; Pablo Pérez, scholar and professor of contemporary history, and Alexia Cosmello, student and intern. After welcoming the new course, Alexia Cosmello Guisande, a student of 3rd International Relations, addressed the rest of the fellows and urged them to thank this opportunity, persevere and take advantage of these years to "train academically and personally". But, he said, "not everything is achieved in the classroom" and encouraged his colleagues to work, but also to enjoy the campus and everything the university has to offer, to ask for help when they need it and to offer it to others.
For his part, Pablo Pérez urged them to discover the beauty of the world, to be interested in knowledge and in the search for the truth. "Being a university student is to learn how to listen, and with friendships, the study becomes more fruitful and can get you to know the truth, something for which we are made of and that fills us with satisfaction," added the professor.
The event ended with a few words from the Vice Chancellor Tomás Gómez Acebo, in which he addressed the new students and reminded those of higher courses everything that is a true university experience. Which is not only sought to transmit science, but also were "consciousness is also formed." That is to say, "many universities transmit science without conscience, but here consciousness is the accompaniment in personal development," he claimed the Vice Chancellor.