ATLANTES: Human Dignity, Advanced Illness and Palliative Care
The ATLANTES Program is the only Spanish program in an international group that advises on palliative care at the Pontifical Academy for Life
Carlos Centeno and Eduardo Garralda, members of this ICS research project at the University of Navarra, participated in the inaugural meeting of the Vatican's PAL-LIFE project in Rome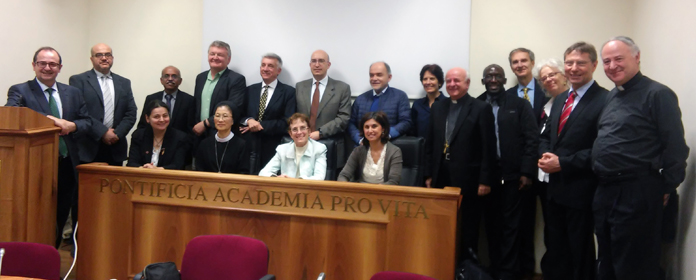 Carlos Centeno, investigador principal de ATLANTES, sale el primero por la izquierda.

FOTO: Eduardo Garralda
The ATLANTES Program of the Institute for Culture and Society (ICS) at the University of Navarra is the only Spanish program to participate in the Pontifical Academy for Life's PAL-LIFE project, which is part of an international working group that advises the Vatican in spreading and promoting palliative care around the world.
The first meeting, held in Rome, presented an analysis of the development of palliative care in different regions and their global challenges, from which a great many debates emerged.
Experts in palliative care participated from all over the world. For example, Eduardo Bruera discussed the situation in North America, while Liliana de Lima focused on South America. Carlos Centeno focused on Western Europe and Sami Al Sirafy on the Arab countries. Emmanuel Luyirika discussed the state of palliative care in Africa, while Daniela Mosoiu looked at Eastern Europe; M. Rajopagal spoke of India and Ling Sun Yong discussed Asia. Finally, Katherine Pettus explained the work of international institutions that defend this area of ​​medicine. Eduardo Garralda worked on the administrative team in charge of the meeting's organizational aspects.
Developing palliative care in the world
In the first stage, the group aims to study the current situation of palliative care and the opportunities and obstacles it faces in introducing and developing this discipline throughout the world.
In addition, the Pontifical Academy for Life has launched a study within the Roman Catholic Church to determine how many centers with Catholic-inspired care and assistance work with terminally ill patients. The study will look at the professional and cultural aspects therein.
The data collected will help establish a starting point for launching palliative initiatives inside and outside of the Church. It also seeks to promote a culture of understanding towards disease and suffering that encourages patients to accept death with serenity and health professionals to provide comprehensive care for patients with advanced diseases.
Contact: Main Library
Campus s/n 31009 Pamplona Spain Tfn: +34 948 425 600 ext. 805615 ics@unav.es