Religion and Civil Society
Three researchers will develop projects at the University with funding from Marie Curie Fellowships, the most prestigious grant program within the European Commission
A Russian and an Italian researcher will join the Institute for Culture and Society and a Spanish researcher will join the Center for Applied Medical Research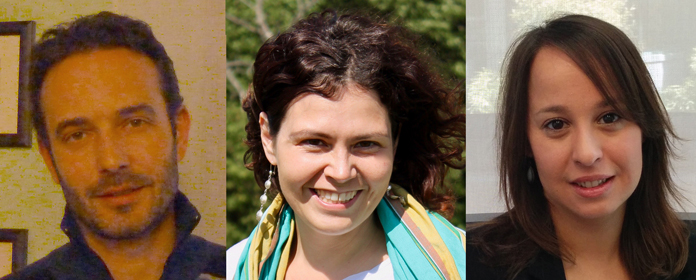 Marco Demichelis, Sarali Gintsburg and Maite Álvarez Rodríguez

FOTO: Cedidas
Three researchers have received individual Marie Curie Fellowships from the European Commission to develop projects at the University of Navarra. An Italian researcher, Marco Demichelis, and a scholar from Russia, Sarali Gintsburg, will join the Institute for Culture and Society (ICS), the humanities and social sciences research center on campus, and the Spanish researcher, Maite Álvarez Rodríguez, will join the Center for Applied Medical Research (CIMA).
Marco Demichelis graduated with a degree in political science and international relations from the University of Turin (Italy) and in African studies from Dalarna Hogskolan (Sweden). He holds a PhD in the history of Islamic political thought from the University of Genoa (Italy) and teaches Middle Eastern History at the University of Turin (Italy).
At ICS, he will work within the Religion and Civil Society project, where he will study the "verses of war" in the Qur'an, with the aim of analyzing the evolution of violence within the framework of the Islamic message from a comparative perspective.
Violence in Islam, creativity in language and cancer treatments
Sarali Gintsburg studied Arabic and Islamic studies at St. Petersburg State University (Russia) and holds her undergraduate degree in the same from the University of Helsinki (Finland). She holds a PhD in humanities from the University of Tilburg (Netherlands) and currently works within the Human Sciences Department at the University of Houston-Clear Lake (USA).
At the Institute for Culture and Society, she will join the "Cognitive science of oral traditions and multimodal narrative" research line, which is part of the Public Discourse project. Her research focuses on formulas of language in poetry and everyday language that are closely related to human creativity. She specializes in the Arab world's oral poetic tradition and in general linguistics and sociolinguistics.
Maite Álvarez Rodríguez holds a bachelor's degree in biology from the University of the Basque Country and a doctorate from the University of California at Davis (USA). At CIMA, she will develop a project on the "Promotion of cancer immunotherapy using killer cells for hematological and metastatic cancers."
Her project involves studying the mechanisms involved in the regulation of the function and activation of cells known as killer cells or Natural Killers (NK) to develop new strategies to manipulate these mechanisms to obtain NK cells with a prolonged and improved anti-tumor response. With this strategy, she aims to improve the treatment of various cancers.
The European Commission grants the Marie Sklodowska-Curie Fellowships in order to contribute to the development of research in the European Union. These grants are funded through the Framework Program for Research and Technological Development (Horizon 2020). They are among the most competitive and prestigious grants awarded in Europe and aim to promote the professional careers of talented researchers.