Top investigator on the Mediterranean Diet appointed Adjunct Professor at Harvard University
The appointment of professor at the University of Navarra is extended from 1 september 2016 until 30 June 2021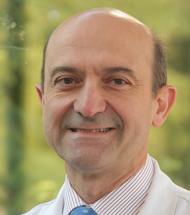 Miguel Ángel Martínez

FOTO: Manuel Castells
Miguel Á. Martínez-González, MD, MPH, PhD, full professor of Preventive Medicine at the University of Navarra (Spain), has been appointed for the period September 1st, 2016 to June 30 2021 as Adjunct Professor at the Department of Nutrition, Harvard T.H. Chan School of Public Health. Martínez-González is one of the top world investigators who has conducted large long-term studies showing substantial benefits of the Mediterranean diet against chronic diseases. According to his statement, "This appointment will further extend a long-term fruitful collaboration between the University of Navarra and Harvard University and will help to enhance the research program on the health benefits of Mediterranean diet on cardiovascular disease prevention."
Martínez-González started his collaboration with Harvard University in 1998 when he was starting the SUN (Seguimiento Universidad de Navarra) project, a Mediterranean cohort, designed under the supervision of Walter Willett, Alberto Ascherio and Frank Hu, faculty members of Nutrition and Epidemiology at Harvard T.H. Chan School of Public Health. He also returned at Boston as visiting scholar in 2001 and 2004 to receive further mentoring and advice, when the PREDIMED (Prevención con Dieta Mediterránea) trial was taking shape. PREDIMED was a primary prevention trial eventually published in 2013. This landmark trial included 7,447 participants initially free of cardiovascular disease and showed with the Mediterranean diet a 30% relative reduction in the risk of heart attacks and strokes during 4.8 years of follow-up. These convincing results have provided strong scientific evidence to recommend the Mediterranean diet for the prevention of cardiovascular disease.
A follow-up visit at Harvard in 2012, together with another member of his Department (Dr. Estefanía Toledo, MD, MPH, PhD, Associate Professor of Preventive Medicine), was instrumental to design a new large trial, the PREDIMED-PLUS, which is now on-going and it is aimed to assess an intensive intervention with energy-restricted Mediterranean diet, physical activity and weight loss in 6,000 participants on cardiovascular outcomes. Martínez-González stated that "We were grateful for many valuable inputs about the design and methods for this new trial from our Harvard colleagues. Later, our grant was funded by the prestigious European Research Council and by the Spanish Official agency for funding biomedical research (Instituto de Salud Carlos III, especially through its CIBEROBN and CIBERESP initiatives)".
Research work
The US National Institutes of Health are now funding 2 research grants between Harvard (Frank Hu, PI) and the University of Navarra (Martinez-Gonzalez, PI) on metabolic pathways that may contribute to the health benefits of the Mediterranean diet. The National Heart, Lung and Blood Institute invited last May Martinez-Gonzalez to participate in an expert meeting in Bethesda to move forward the process toward testing the benefits of the Mediterranean Diet in the US.
Miguel A. Martínez-González has published 20 books and more than 500 papers in scientific journals. He is the founder and PI of the SUN cohort and was the Coordinator of the PREDIMED Research Network. He also serves as associate editor of the British Journal of Nutrition.