The School of Architecture launches a degree in Architecture Studies in response to the new demands of the profession
The degree will reinforce the internationalization with programs, trips and internships, and includes three specialties in Project Management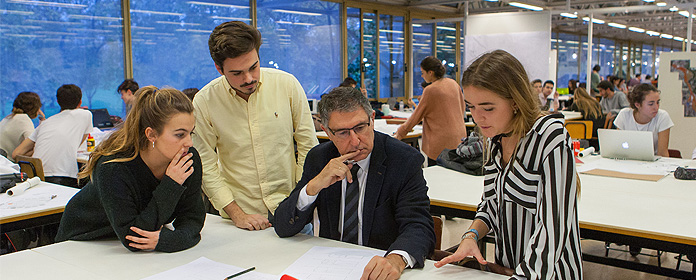 Students in the workshop of the School of Architecture of the University
FOTO: Manuel Castells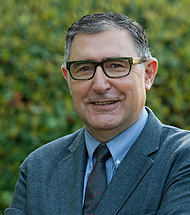 Miguel A. Alonso del Val, director of the School of Architecture
FOTO: Manuel Castells
The University of Navarra will start the program next academic year 2017-18 with this new degree in Architecture Studies, That will have a strong commitment to internationalization and an intensification in management oriented with three mentions: Creative Project Management, Urban Project Management and Technical Project Management.
The degree will replace the current degree in Architecture that lasts 6 years and will consist of 300 ECTS credits spread over 5 academic courses of 60 ECTS each. It will also give access to the Official Master's Degree in Architecture that is qualified to practice the profession of an Architect.
"In the process of transforming the teaching of architecture that is being lived in the Spanish university, the new degree in Architecture Studies is an opportunity to focus the training offered by the University of Navarra to a new professional horizon, in an environment Collaborative and open to an international context," says Miguel A. Alonso del Val, director of the School of Architecture at the University of Navarra.
Innovation in teaching and accesing the qualifying master degree
With respect to internationalization, the curriculum integrates the Global Architecture Program, which up until now was offered as its own title, and offers the option of an English degree in addition to study abroad programs and internships.
It also highlights the incorporation of specific management content to the architect's own knowledge, allowing the student to complete their training through the three mentions. These, besides oriented elements, will have a common and transversal training on management: people management, business management, marketing, etc. For this they will have the support of professors from other centers of the University of Navarra, such as IESE or the faculties of Economics and Communication.
Another feature of the degree in Architecture Studies is innovation. The new approach involves the student in his training with teaching by projects, many thanks to the collaboration with companies and institutions; The commitment to the "vertical workshop", where students from different courses work as a team in the development of projects, joining leadership and responsibility. In addition, the School has the latest technologies in the Laboratory of architecture and in the workshop of digital manufacture.
Finally, the new five-year degree is complemented by a master's degree of one year, which incorporates the traditional End-of-Career Project into specific training in professional and entrepreneurship skills. It will also have guided practices and two venues in Madrid and Pamplona. Then latter be linked to study abroad (Amsterdam, London, Mexico, etc.).