Over 80 Students from 10 Countries at School of Economics and Business Administration
Students from 16 different universities come together for the UNICC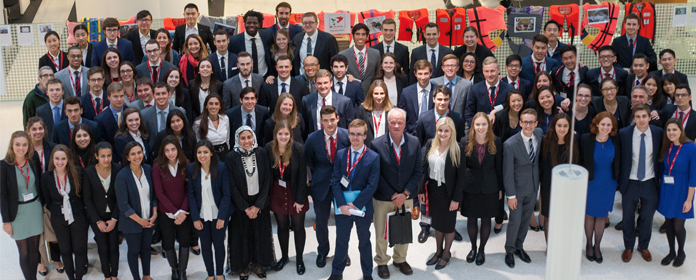 The School of Economics and Business Administration welcomed over 80 students to the Fifth University of Navarra Case Competition. The UNICC offers young people from all over the world the chance to discuss real issues faced by today's businesses. Some of these students shared their experiences on the University of Navarra campus:

Mariham Poles
Egypt
"It's the first time I compete internationally"
Mariham Poles studies at the American University of Cairo (Egypt). She came to Spain for the first time to compete in the UNICC and she's thrilled with the country. "One of the highlights of this trip has been meeting students from around the world," she said.
This was her first time competing on an international level and she has learned a lot from the cases she considered. "I loved preparing for the case, especially when we were in the brainstorming phase. We were under a lot of pressure, but it was still a ton of fun."

Amy Pileggi
Canada
"I enjoy 100% the experience"
Amy Pileggi studies at Concordia University (Canada). She said that her experience in Navarre was "fantastic." Not even the snow that blanketed Pamplona that weekend stopped her from enjoying the city to its fullest. "I think I've had a truly Spanish experience," she said. "The campus is stunning and the University of Navarra seems just great."
As for the UNICC, she said that it was very well run and that she loved meeting so many people from so many different countries.

Eric Chiang
Hong Kong
"UNICC is the best competition in the world"
Eric Chiang studies at the University of Hong Kong. This was his first visit to Spain. "I'm totally taken with Pamplona," he said. It's such a beautiful city and I can tell that there's a lot of tradition around the Running of the Bulls. I love it. And of course the campus is amazing." He says his favorite moment may have been the bullfight he saw with several other students.
For Eric, the UNICC was an unbeatable chance to meet "some very smart people" from all over the world. "I'd come again if I could," he said.

Nathapong Pipoppynio
Tailandia
"My experience here in one word? Sublime"
Nathapong Pipoppynio studies at Chulalongkorn University (Thailand). Of his first trip to Spain, he said, "It's a lovely country and so much cleaner than Thailand!" He was particularly captivated by the landscapes, the food and the amount of green space in the city.
"The UNICC strikes me as a really first-rate competition. I've gotten close with students from the United States, Hong Kong and Spain. I wouldn't hesitate to come back."