Quiénes somos
Letter from the Dean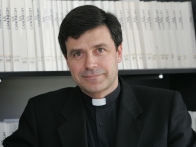 "Welcome to the School of Canon Law at the University of Navarra.
The School of Canon Law in Pamplona has been training canonists for the last 50 years. Traditionally, many of the School's students come from outside Spain, especially Latin American countries, so the universal nature of Church law and the origins of the School's student body mean that the international dimension is a hallmark of this academic center.
The School trains ordinary people, priests and members of the laity who will go on to work in ecclesiastical courts and diocesan curia, and as teachers at universities and other academic centers. We also provide training for future lawyers who will go on to specialize in marriage law or work in the many and varied areas that require the reasoned opinion of a specialist in canon law and the civil effects of ecclesiastical activities.
The University of Navarra's School of Canon Law is a qualified center for research into canon law and state ecclesiastical law, as demonstrated by its periodic journals, its extensive collection of manuals and published papers, and its internationally recognized reference works.
We welcome you to our School, and we hope that you make the most of your stay in Navarre to study well and acquire skills in a warm, pleasant environment."
Warm regards,
Antonio Viana
Dean of the School of Canon Law