Titulo_Explora_VisitaCampus Duplicate 1 Duplicate 2 Duplicate 2 Duplicate 1 Duplicate 1 Duplicate 2
UNDERGRADUATE DEGREES. Entrance exams and criteria
Titulo_Muchomasqueestudiantesacademicos
We are looking for outstanding students from all over the world, who are curious, have an interdisciplinary mentality and are inspired to improve society – people whose talent and experience can drive our university forward.
Titulo_RendimientoAcademico
How do we measure academic performance?
Foto_RendimientoAcademico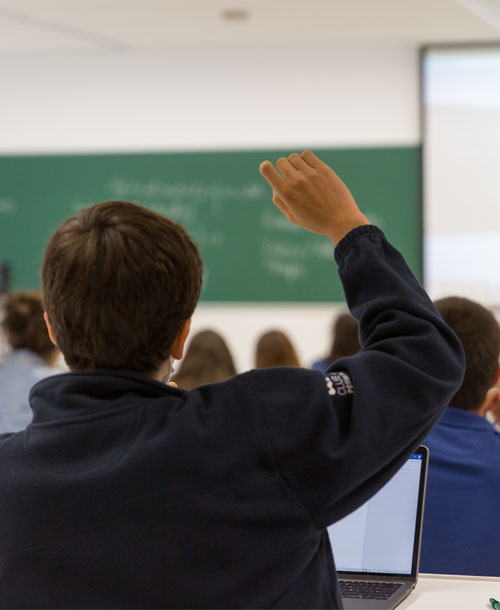 CriteriosAdmision_Desplegable
What are the entrance exams like?
Content of the examinations
Examples of the aptitude and skills tests:
TituloFoto_ProcesoAdmision_IB
Access to the University of Navarra through the International Baccalaureate (IB) Diploma Program

Admission to the University of Navarra via the International Baccalaureate (IB) Diploma Program (DP)
Titulo_ClassicLearningTest
CLT (Classic Learning Test)
CLT is one of the standardized college entrance exams and provides the most accurate and rigorous measure of academic formation, accomplishment, and potential.
PruebasAdmision_2545_Documentacion
La documentación que debe entregarse junto con el formulario de solicitud online entre el 3 y el 17 de febrero es la siguiente:
Fotocopia del documento nacional de identidad (por las dos caras).

Una fotografía (tipo carnet).

Justificante de haber transferido la cantidad de doscientos treinta y cinco (235 €)*, en concepto de derechos de inscripción, en la siguiente cuenta bancaria:

CaixaBank: ES92 2100 9161 47 2200152057
*Esta cantidad no es reembolsable.
Titulo_Pruebasmayores2545
Contenidos de las pruebas de admisión para mayores de 25 y 45 años
Pruebas para mayores de 25 años
Pruebas para mayores de 45 años
Los alumnos deberán elegir como primer ejercicio una de estas dos opciones:
Por último, los candidatos deberán realizar una entrevista personal.