RAMÓN SALAVERRÍA ALIAGA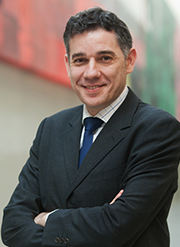 Departamento de Proyectos Periodísticos
Especialización: Periodismo digital
Categoría y fecha de inicio: Profesor Titular (desde 1/10/2007)
Área de conocimiento: Comunicación
Licenciado en Ciencias de la Información, rama Periodismo (30/6/1993)
Doctor en Comunicación (1/9/1998; Premio Extraordinario de Doctorado)
Periodismo en internet
Lenguaje periodístico multimedia
Publicaciones en revistas — 45
Libros — 7
Capítulos de libros — 61
Otras publicaciones — 29
Edición de actas de congresos — 3
CONSULTAR PUBLICACIONES
Director del Center for Internet Studies and Digital Life de la Universidad de Navarra, es un investigador especializado en ciberperiodismo y medios digitales.
A nivel internacional, forma parte del World Journalism Education Council. Ha sido chair de la Journalism Studies Section de ECREA (European Communication Research and Education Association). Durante el curso 2014-15 fue visiting scholar en la Universidad de Texas en Austin (EEUU).
Por sus investigaciones sobre nuevos medios, en 2012 la Organización de las Naciones Unidas lo incluyó en el directorio Global Experts, que selecciona a investigadores de talla mundial sobre distintas disciplinas.
Consultor para empresas periodísticas y formador de periodistas a escala internacional, ha dictado cursos y conferencias en 31 países.