You are in:

Former members
Former members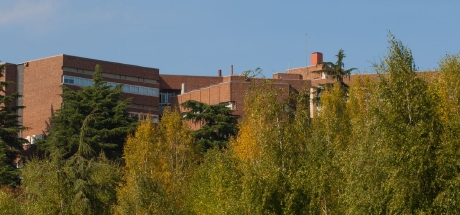 The Department of Physics and Applied Mathematics started in 1989 thanks to professors Carlos Pérez and Héctor Mancini.
Postal address:
Dpto. de Física y Matemática Aplicada
Facultad de Ciencias
Universidad de Navarra
Ed. Los Castaños
C/ Irunlarrea s/n
31080 Pamplona (Spain)
Former members

Dr. Michael Bestehorn
Dr. Stefano Boccaletti
Dr. Emilio Díaz Calavia
Dr. Alexander Ezersky
Dr. Javier Martínez Mardonés
Dr. Gabriel Mindlin
Dr. Ramchandra Nahre
Dr. Thierry Ondarçuhu
Dra. Carmen Palacios
Dr. Antonio Peláez
Dr. Diego Valladares
Dr. Fernando Varela
Former Doctoral Students (and date of thesis defense)

Carlos Beijines. September 2020.

Diego Gella. Febrero 2020.

Claudia Hawks. Junio 2019

Karol Asencio. Abril 2018.

Iván Cortés. Octubre 2016.

Hugo J. Bello. Septiembre 2016.

Sara M. Rubio. Septiembre 2016.

Laura Pérez. Marzo 2016.

Raheema Aslam. Enero 2016.

Ana Simic. Diciembre 2014.

Celia Lozano. Septiembre 2014.

Miguel López Caballero. Septiembre 2013.

Manuel Francisco Acevedo. Junio 2013.

José Guadarrama. Marzo 2013.

Moorthi Pichumani. Septiembre 2012.

Gerard Vidal. Diciembre 2010.

Álvaro Janda. Noviembre 2010.

Maximiliano Giuliani. Septiembre 2010.

Martín Pastor. Junio 2010.

Cristian Mancok. Octubre 2009.

Iván Efrain Martínez. Septiembre 2009.

Diego Azcona. Septiembre 2009.

Alberto de la Torre Monguió. Septiembre 2009.

Monserrat Miranda Galcerán. Junio 2009

Roberto Arévalo. Febrero 2009.

Joaquín Goñi Cortes. Diciembre 2008.

Maria Yoldi. Octubre 2008.

Miguel Valencia. Septiembre 2006.

Angela Bernardini. October 2005.

Iker Zuriguel. Febrero 2005.

Cecilia E. Wolluschek. Septiembre 2004.

Santiago Madruga. Septiembre 2003.

Carolina Mendoza. Septiembre 2003.

Sergio Casado. Septiembre 2002.

Andrea Vallone. Septiembre 2002.

Begoña Peña. Junio 2002.

Miguel Ángel Pelacho. Junio 2000.

María Luisa Ramón. Junio 2000.

Blas Echebarría. Agosto 1998.

Ana Mancho. Septiembre 1996.

Javier Burguete. Septiembre 1995.

Diego Maza. Septiembre 1995.

Ángel Garcimartín. Agosto 1994.

Henar Herrero. Julio 1994.

Héctor Luis Mancini. Julio 1994. (profesor asociado)

Ricardo López. Septiembre 1994.

Juan Millán. Junio 1994.
Contact: Department of Physics and Applied Mathematics
School of Sciences
Universidad de Navarra
C/ Irunlarrea s/n 31080 Pamplona Spain +(34) 948 42 56 00 dfma@unav.es