Research Room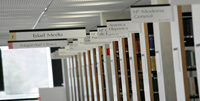 This room is intended primarily for researchers (e.g. faculty members, doctoral and master's students) in the Humanities and Social Sciences. In addition to the collection available for direct access, over 255,000 titles located in the stacks are accessible through electronic request, including digital journals, databases and more than 55,000 e-books.
Thousand titles on direct access
Personal workspaces (assigned)
Reading points (not assigned)
Lockers for doctoral and master's students
Computers for locating books, journals, etc.
Contact: University of Navarra Campus. Main Library 31009 Pamplona Spain +34 948 425 600 (Ext. 802065) bibhumcons@unav.es