Tributo a Pink Floyd en favor de la investigación biomédica
El Conservatorio Superior de Música de Navarra ha organizado un concierto benéfico para apoyar a Helpify, plataforma promovida por el CIMA de la Universidad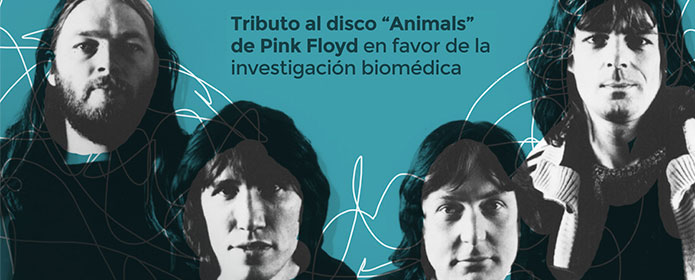 Cartel anunciador del tributo a Pink Floyd en favor de Helpify.
FOTO:
El Conservatorio Superior de Música de Navarra va a rendir homenaje a Pink Floyd en un concierto benéfico en favor de Helpify, plataforma promovida por el Centro de Investigación Médica Aplicada (CIMA) de la Universidad de Navarra, para impulsar la investigación de enfermedades que actualmente no tienen curación.
El evento, organizado con motivo del 40º aniversario del disco "Animals" de la banda de rock británica, tendrá lugar el 20 de enero, a las 20h., en el Auditorio Fernando Remacha (Paseo Antonio Pérez Goyena, 1, Pamplona). "La entrada es gratuita hasta completar aforo, previa retirada de invitación en el auditorio o en la recepción del CIMA (Avda. Pío XII, 55) a partir del martes 17. Asimismo, hemos habilitado una fila cero para que todo el que lo desee realice su aportación, que se destinará íntegramente a apoyar proyectos de investigación biomédica. Cualquier donación, por pequeña que sea, ayuda a encontrar tratamiento a enfermedades tan cercanas como el cáncer, el alzhéimer, el párkinson o los problemas cardiovasculares", explica Alberto Navascués, profesor de Música Moderna del conservatorio. Quien desee colaborar con la "Fila cero" puede hacerlo a través de la cuenta de Helpify (IBAN ES89 2100 9161 4122 0015 9486) o directamente en su página web: helpify.es.
Los intérpretes del concierto serán los profesores Andoni Arcilla (voz), Juanma Urriza (batería), Antón Giménez (bajo), Ulrich Calvo (guitarras), Ion De Luis (guitarras), Alberto Navascués (teclados) y Jorge Senosiain (técnico).
"Rebelión en la sala"
"Rebelión en la sala" es el título de este concierto en alusión a la novela "Rebelión en la granja" de George Orwell, en la que está inspirado el disco "Animals". Por ello durante la interpretación de las canciones de este disco se intercalará la música con la lectura de algunos fragmentos del libro. De este modo, según Alberto Navascués, "el Conservatorio Superior de Música de Navarra quiere unir música y literatura en este aniversario dedicado a una causa solidaria con su apoyo a la plataforma Helpify". Así, el concierto cuenta a su vez con la colaboración de las Bibliotecas Públicas de Navarra.
Descargar cartel del concierto.
Research
Centers
The Center for Applied Medical Research (CIMA) and the Institute of Culture and Society (ICS) are some examples of centers that carry out research work. See Departments and Centers
Campus of International Excellence
Innovation in teaching, interdisciplinarity, internationality and social involvement.
Doctoral School
Responsible for the coordination, planning and yearly monitoring of the doctoral programs.