Religion and Civil Society
ICS hosts its second seminar dedicated to the presentation of academic papers
ICS hosts its second seminar dedicated to the presentation of academic papers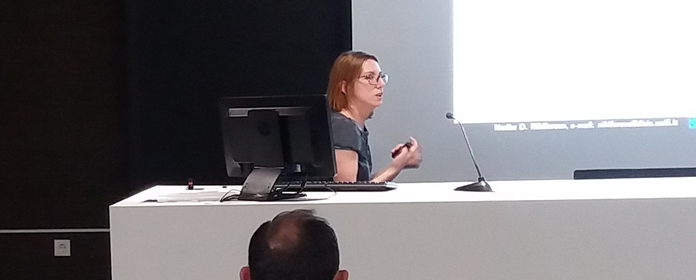 Presentación del paper de la Unidad de Estadística.

FOTO: Isabel Solana
The Institute for Culture and Society (ICS), the humanities and social sciences research center at the University of Navarra, hosted a seminar dedicated to writing and presenting academic papers for the second time. This activity aims to facilitate the presentation of papers in progress to other researchers in order to receive feedback and foster interdisciplinary dialogue.
On June 12, two researchers presented their articles, including, "Meaningful recognition: A scoping review of gratitude between patients and their families and health professionals" by María Arantzamendi (ATLANTES Program) and "Trust as a moral emotion and foundation of bonds" by Mariano Crespo (Emotional Culture and Identity).
On June 14, Nedka Nikiforova, Jesús López Fidalgo (Statistics Unit) and Rosella Berni presented the paper, "Discrete choice experiment for the analysis of consumer's preferences: Integrating a choice experiment with an extra preference."
Finally, on June 16, Carlos Beltramo (Education of Human Affectivity and Sexuality) presented the paper, "The concept of integration as a possible bridge between neuroscience and education," Francisco Güell (Mind Brain Group) shared his work on "Observatory of Friendship" and José Ignacio Murillo (Mind Brain Group) presented "Virtue, habit and neuro-ethics."