Portada_Foto_PorQueMCuratorial
Want to be a curator?
Curators are responsible for the discourse and means through which art and culture are present in our society.
They study and learn at the heart of daily life in a museum, where they come into direct contact with works of visual and scenic art, curators, artists, exhibition processes and organizational aspects: from idea to inauguration, from proposal to première.
They also participate in the University of Navarra's vibrant intellectual and interdisciplinary setting and on the international faculty made up of leading experts and curators.
TextoProyeccionProfesional
Graduates will have the capacity to address the contemporary development of culture with a critical and thoughtful approach and will possess the theoretical and technical knowledge that will enable them to work as:
Intellectual and operational authors of exhibitions at public and private art centers and museums.

Independent promoters of artists.

Art consultants on the creation, preservation and expansion of public and private collections.

Directors of art festivals, artist-in-residence programs, award program coordinators, etc.
Graduates of the master's degree will also be able to pursue careers as:
Museum managers in the management or administration of services, design of museum projects, planning and design of exhibitions, conservation and dissemination of heritage property.

Art critics in the traditional media and in new formats of journalism.

Experts in the cataloging, valuation and appraisal of works of art, independently or for galleries, auctions and fairs.

Cultural heritage managers at foundations, companies and public and private partnerships with links to cultural heritage.
TextoPracticasprofesionales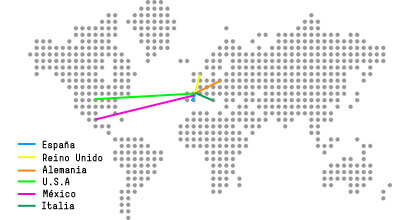 Starting in May, students in the Master's Degree in Curatorial Studies undertake an obligatory internship period (4 ECTS credits) at institutions (museums or cultural centers) or organizations that produce artistic exhibitions and programs. The option of recognizing credits corresponding to professional internships (4 ECTS credits) is available for those who demonstrate sufficient professional experience (minimum of one year) as a curator of exhibitions or artistic events, carried out independently or at a museum.
To date, there are several agreements with national and international institutions such as Museo Nacional Centro de Arte Reina Sofía, Museo Fundación Jorge Oteiza, CA2M, Museo ABC, Bombas Gens, Palacio Domecq, Spain Moving Image Festival, The Bronx Museum, Hispanic Society of America, Hablarenarte, Infrasonica, Fundación Juan March, Feria de Arte Barcú, The Bass Museum, Instituto Cervantes, The Barber Institute of Arts, Colección Coppel, Museo Carrillo-Gil, la Bienal de Cuenca (Ecuador), among others.