General contact:
ISSA School of Management Assistants Edificio Amigos. 31009 Pamplona España 948 42 56 00 Ext: 802981
cmestre@unav.es
General contact:
ISSA School of Management Assistants 31009 Pamplona Spain
Isidro es de Jaén, concretamente de Andújar. Le dijeron que había dos plazas libres para ir a Toronto y no se lo pensó dos veces. Durante este semestre estudia su tercer curso del grado en Asistencia de Dirección en Toronto, Canadá.
¿Por qué elegiste el Centennial College de Canadá?
Es una oportunidad única para aprender en una universidad diferente, en otro país con otro tipo de sistema de enseñanza, y también para viajar, conocer otra cultura, otra gente, otro estilo de vida. Toronto es una de las mejores ciudades para vivir del mundo.
En Canadá, alrededor del 50% de la población proviene de otros países. Esto hace una gran experiencia multicultural el vivir, estudiar y trabajar aquí con gente que viene de sitios y de culturas tan distintas.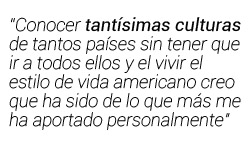 ¿Qué es lo que más te ha sorprendido de la ciudad y qué es lo que más te está gustando?
El tiempo es lo que más me ha sorprendido y ha sido una gran experiencia. Al ser del sur de España nunca había visto nevar y que cuaje. Tampoco había estado demasiadas veces a bajo cero. Aquí hemos estado dos meses y medio en temperaturas negativas. La temperatura más baja fue -42º en San Valentín así que, ya tengo algo que contar a mis nietos.
¿Qué idiomas estás utilizando más?
En Canadá los idiomas oficiales son el inglés y el francés, en Ontario concretamente el más utilizado es el inglés por lo que estoy aprendiendo muchísimo gracias a las clases, que son todas en inglés, y a los compañeros y gente que conoces que tienen un gran nivel lo que te ayuda a mejorar.
¿En qué crees que te complementa profesional y personalmente el hecho de ir a estudiar al extranjero?
Profesionalmente en la cantidad de oportunidades que estoy teniendo y en toda la gente que he conocido. Por otro lado, el conocer tantísimas culturas de tantos países sin tener que ir a todos ellos y el vivir el estilo de vida americano creo que ha sido de lo que más me ha aportado personalmente.