A University of Navarra student has started an initiative to collect personal testimonies of people of the global COVID-19 pandemic
Alfonso Boned has shared the hashtag #UnaHistoriaMásHumana (in English: A More Human Story) in order to compile a documentary archive of different personal experiences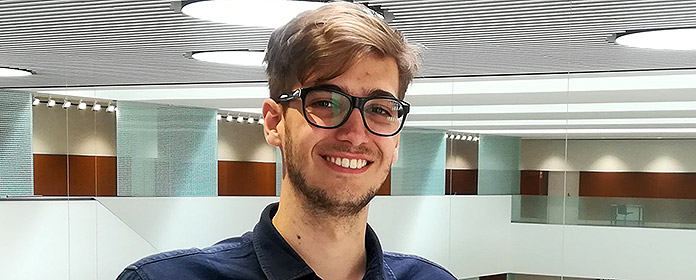 Alfonso Boned
FOTO: Chus Cantalapiedra
University of Navarra student Alfonso Boned has started the #UnaHistoriaMásHumana initiative with the aim of collecting personal testimonies that reflect what people have experienced during the COVID-19 pandemic.
By compiling all the testimonies he receives, this third year student in ISSA School of Management Assistants will create a documentary archive that will be accessible to all. "Every person has a different story which deserves to be told to those who come after us", says Boned, whose hope is that "in 100 or 200 years' time, as well as having the data of the pandemic, people will also know about our lived experiences".
He points out that this documentary archive will be a legacy for future generations: "It has never been easy to write history" he says. For this reason, he is encouraging anyone who would like to participate in this initiative to send in their testimony because "the more stories in the archive, the greater the legacy we hand on".
Boned started to work on this project when he heard about the project by the Mexican artist, Roberto Martínez, who was collecting letters from rich and poor people to compare what their day-to-day lives were like long before this pandemic struck. "I thought I would use his idea to collect letters to compare how people of different ages felt during this pandemic. That way you can put yourself in someone else´s shoes, whose reality is very different to yours and know how they are living through this radical paradigm shift".
"I expanded this idea by adding my knowledge of document and archive management, so that I would be able to store them indefinitely", he says. He also notes that he has used tools and strategies acquired throughout his degree program to set up this project: from how to collect personal data in compliance with the EU General Data Protection Regulation to how to create a webpage.
He reminds us that "we do not know how long we will have access to television reports. Right now, if any of us got hold of a film from the 1920s, we would not be able to play it. On the other hand, PDF-A format saves the information in a timeless format so that in 2120 people will still be able to read our stories as we can now".
Those interested in participating in this project may do so by filling in the form on the webpage unahistoriamashumana.com. They should describe what they do in their daily life, how they feel and what they worry about. Messages can be sent in anonymously if people so wish.