José Ignacio Herrero, nuevo vicedecano de la Facultad de Medicina
Sustituye al Dr. Juan Carlos Galofré como responsable de Profesorado y Posgrado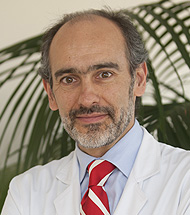 Dr. José Ignacio Herrero Santos
FOTO: Manuel Castells
El rector ha nombrado al Dr. José Ignacio Herrero Santos vicedecano de la Facultad de Medicina, en sustitución del Dr. Juan Carlos Galofré, hasta ahora responsable del área de Profesorado y Posgrado.
José Ignacio Herrero es licenciado y doctor en Medicina, y especialista en Medicina Interna por la Universidad. Ha realizado estancias formativas en hospitales universitarios de Birmingham (Reino Unido) y Pittsburgh (Pensilvania, EEUU), Michigan (EEUU) y Chicago (Illinois, EEUU).
Su docencia se ha llevado cabo en el departamento de Medicina Interna, fundamentalmente en Patología General y Fisiopatología. Es profesor titular de la Facultad de Medicina desde 2012. Ha dirigido 9 tesis doctorales y 11 trabajos de fin de grado. Lleva a cabo su labor asistencial en la unidad de Hepatología de la Clínica Universidad de Navarra, donde es el responsable médico del programa de trasplante hepático. Es investigador de IdiSNA y del CIBERehd, coautor de más de 130 artículos científicos y de más de 30 capítulos en libros.
Research
Centers
The Center for Applied Medical Research (CIMA) and the Institute of Culture and Society (ICS) are some examples of centers that carry out research work. See Departments and Centers
Campus of International Excellence
Innovation in teaching, interdisciplinarity, internationality and social involvement.
Doctoral School
Responsible for the coordination, planning and yearly monitoring of the doctoral programs.