International Foundation Program
Introduction
The main objective of the International Foundation Program (IFP) is to prepare international students to take a degree at the University of Navarra. You will acquire an adequate basis of both Spanish language and culture, as well as specific knowledge of the studies you will carry out in the future.
The program comprises 60 ECTS (European Transfer Credit System) and is divided into two modules: Linguistic and Cultural Competences and Specific Degree Contents (9 different modules are offered). Depending on your level of Spanish, the study load of each module is adapted to your specific needs. You can carry out the annual program that starts in September (60 ECTS) or the semester program that starts in September or January (30 ECTS).
The second semester program (January-May), 30 ECTS, is designed to accommodate students from countries with an austral calendar.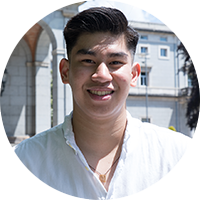 Miguel Jaime Mackay
The International Foundation Program (IFP) helped me to adjust and adapt so fast to my new
environment in Spain. Coming from a country where we don't speak Spanish at all, the program proved
to be a great transition offering the perfect balance between Spanish language classes and academic
classes that gave me such a well-rounded experience. From trying different classes from different
faculties that I never thought I would be interested in while progressing in my level of Spanish the IFP
really proved to be the prefect start to my university life in Spain.
| | |
| --- | --- |
| | Regina Sheerin Admission Coordinator International Foundation Program rsheerin@unav.es |
General contact:
University Campus 31009 Pamplona Spain +34 948 42 56 00 Ext: 802982
rsheerin@unav.es