Winter Session 2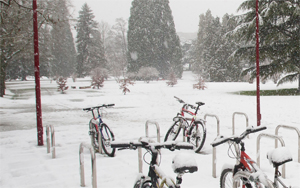 This 4 week program runs from
January 11-February 5, 2016.
The academic program includes two distinct tracks depending on student's proficiency level in Spanish and previous study of Spanish language and culture.
In addition, students may enroll in seminars pertaining to a particular field of study.
Students will take a placement test to determine the program of study that best fits their needs.
Monday to Friday

Language of instruction

Hours

Credit recognition

Levels

9.00-12.30

Spanish Language

Spanish

50 h

8 ECTS

CEFR A1
CEFR A2

12.30.13.30

Spanish Culture

Spanish

30 h.

Afternoon (2-3 per week)

Cultural activities

Spanish and English

Afternoon

Filed of study

English
Spanish Language

Spanish Language provides active participation in oral and written communicative tasks in order to develop students' interpersonal skills in Spanish. The course covers all aspects of the Spanish language, from basic grammar and orthography to pragmatics. Critical analysis and interpretation of authentic texts in Spanish (newspaper articles, adds, and short films) is also developed, as are the student's presentation skills.

Intensive 50-hour course in four weeks, from Monday to Friday, (morning sessions: 9.00 - 12.30 pm).
Spanish Culture

An overview and critical analysis of Spanish History, Art, and Literature from modern day to antiquity is provided. Visits to major cultural sites in Pamplona and its surrounding areas are integral parts of the course, consisting of a total of 30 hours.

All classes are held from Monday to Friday (12.30 – 13.30 and some afternoon hours).

Fields of study
In addition to the main courses in the Winter program, students may enroll in seminars pertaining to a particular field of study (Engineering, Economics, Communication). These are optional.

Students may take more than one seminar. These courses are open to all students regardless of their majors and minors in their home institutions.

Each Field of study costs 100€.
An official university-level accreditation diploma by the Universidad de Navarra will be awarded to all students who complete the program.
Credit Recognition: 8 ECTS (80 h classes). Please consult with your advisor at your home university to assure the transfer of ECTS (European credits) to your credit system. For students from the US, courses are equivalent to 5 credits of university Spanish.
Tuition
Deadline

General fee

Early Bird

UNAV students and students from partner universities

Early Bird

General

1.250€

1.000€

1.000€

Sept 20

Dec 20
Payment can be made either by credit card (no additional charge) or international bank transfer. Student is responsible for any fees charged by host banks to complete the money transfer).
Full tuition must be paid two weeks before the session begins.