Discover the culture of Navarra through its wines: a project developed by three Navarra institutions for international university students
13 students from the University of Navarra, hailing from 11 countries, participate in an online tasting organized in conjunction with the Navarra Academy of Gastronomy and the Navarra D.O.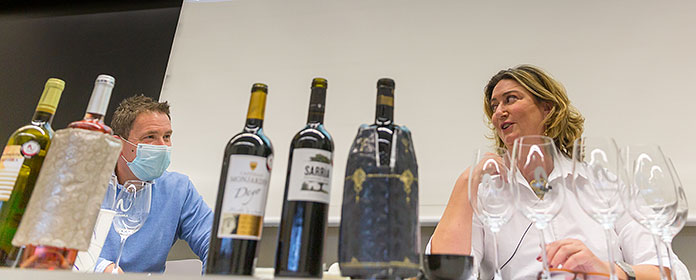 Un momento de la cata, dirigida por Ana Laguna desde la Universidad. A su lado, el profesor de la asignatura Mark Gibson.
FOTO: Manuel Castells
The University of Navarra, the Academia Navarra de Gastronomía and the D.O. de Navarra have organized an online tasting of Navarra wines for international students from the University. This activity is part of the course "The business of wine and gastronomy in the North of Spain", given by the Institute of Spanish Language and Culture (ILCE) of the School of Humanities and Social Sciences.
The initiative, in which 13 students have participated, has been guided by the expert oenologist Ana Laguna, vice president of the Navarra Academy of Gastronomy, Javier Santafé, managing director of the Regulatory Council D.O. Navarra and Mark Gibson, coordinator of the subject. Due to the current health situation, the students, from 11 diffferent countries, including Lebanon, Egypt, the Philippines, the United States and Italy, have participated in the tasting from their homes, where they received the "Navarra Wine Cata Kit", composed of a selection of five DO Navarra wines (Inurrieta Orchídea 2019; Alex Rosado 2019; Unsi Terrazas 2017; Castillo de Monjardín Deyo 2016; and Señorío de Sarría Reserva 2015), a tasting tablecloth, a corkscrew, and an introductory book on knowledge of wine DO Navarra.
This activity was born within the framework of the summer courses organized by the ILCE for international students. As Mark Gibson, professor of Linguistics at the Faculty of Philosophy and Letters and a former professional chef, explains, "the reception was so good that it became a semester subject within the Cultural Immersion block. We wanted to offer the students topics of interest with an academic base that would help them to learn about culture and understand the importance of wine and gastronomy".
Based on experiential learning, that is, "learning by doing different activities", the students had to develop a project related to the hospitality sector in Pamplona: "The final project consisted of setting up a business, where they had to develop, among other issues, feasibility analysis, expenses and risks, marketing plan, etc. The balance has been very good and this tasting, in collaboration with these two important Navarrese entities, is the perfect finishing touch ", he concludes.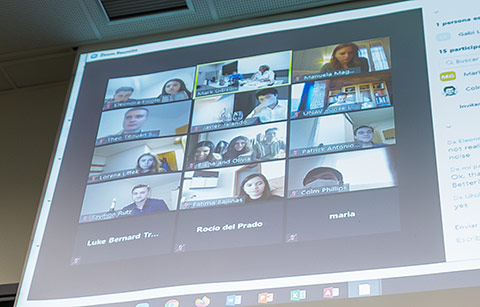 Contact: Instituto de Lengua y Cultura Españolas 31009 Pamplona Universidad de Navarra Edificio Central España +34 948 425 600 ilce@unav.es