ILCE Certificate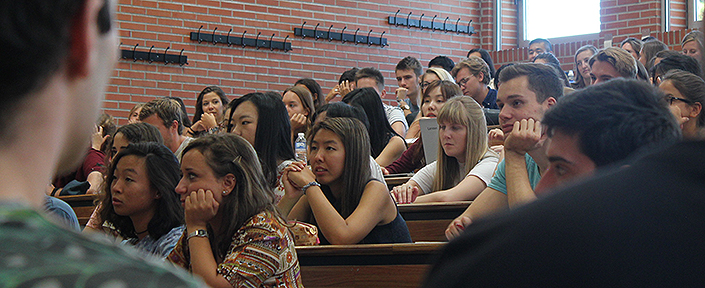 Who is the ILCE Certification test for?

The ILCE Certification test is oriented towards those international students without prior Spanish education that need to demonstrate their level (B1/B2/C1) with a diploma in order to continue their studies or study an undergraduate or postgraduate degree, either in UNAV or other universities.
What is the test like and how many parts does it have?

The test is computerized and given in person, and it is comprised of 5 parts.
Which competencies are evaluated in each part?

Each part of the test evaluates one of the 5 recognized language activities in the basic curriculum of the CEFR: comprehension of oral texts, comprehension of written texts, production and coproduction of oral texts, production and coproduction of written texts, and mediation.
Structure and duration of the exams

This exam consists of different oral and written tests.

Grammar and vocabulary test (50 questions)

Reading comprehension test.

Oral comprehension exercises.

Composition of a general argumentative text (two options are offered)

The tests last 2 hours in total, and the use of a dictionary is not permitted.

A student that earns a score of at least 70% will be considered APTO (which means that you have passed the exam).
When and how will I receive my results?

Candidates will know their results of the ILCE Certification approximately one week after the test has been taken. ILCE will send the certificate of the test through the email that had been used for registration. The candidates that have obtained the global qualification of APTO (which means that you have passed the exam) will receive an accredited diploma.
Payment Methods

In-person in the ILCE Secretary's Office (Ismael Sánchez Bella building): in cash or with a credit card.

Bank Transfer

Online: Credit card
Price

141 euros. This amount represents the final price of your exam.
Dates

Online Certification Dates:

- June 12th

- June 29th

- July 30th

- August 28th
Contact: Edificio Ismael Sánchez Bella
Universidad de Navarra 31009 Pamplona Spain +34 948 425600 (ext. 80 23 61) ilce@unav.es