300 students from 26 schools participated in an essay contest on education, science and religion related to the origin of the universe
Students from the Pinoalbar (Valladolid), Pineda (Barcelona) and Los Robles (Asturias) schools achieved first, second and third place respectively in this essay contest at the University of Navarra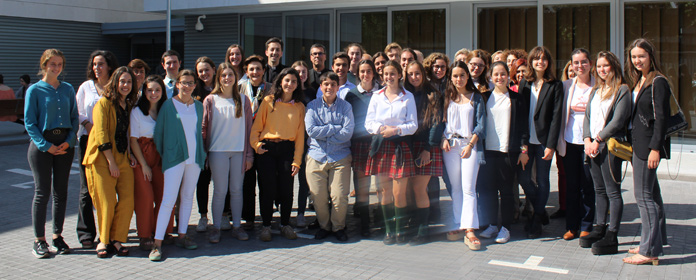 La entrega de premios del concurso tuvo lugar en Madrid.

FOTO: Cedida
More than 300 students from 26 schools throughout Spain participated in an essay contest promoted by the Science, Reason and Faith (CRYF) project at the University of Navarra. The essay contest topic was "The relationships between sciences that study the origin of the universe and religious teachings on creation." The contest is part of a research project at the Institute for Culture and Society (ICS) and received funding from the John Templeton Foundation.
The first prize (a 3,000-euro monetary award) went to a group of students from Pinoalbar School (Valladolid), including Claudia Muñoz Pombo, Blanca Ojanguren García and Eugenia Rodríguez Rodríguez-Sáinz. Their essay is entitled, "Einstein, agujeros negros y la quinta dimensión: una relectura del origen y la estructura del cosmos en Interstellar" (Einstein, black holes and the fifth dimension: A re-reading of the origin and structure of the cosmos in Interstellar).
According to the jury, the winning team "managed to combine originality and depth both when it comes to their presentation and content." They also highlighted the essay's reflection "on the universe's temporal dimension from the perspective of contemporary science, with the help of cinematographic language" and its ability "to establish a dialogue with Christian revelation's sense of time regarding creation."
On the other hand, Judith Villegas Peñalber and Ainoa Cuesta López, who study at Pineda School (Barcelona) obtained second prize (a 2,000-euro monetary award) for their essay, "¿El universo a partir de la nada o de un Dios?" (A universe starting from nothing or from a God?) Third prize (a 1,000-euro monetary award) went to Alberto Molina Gutiérrez, from Los Robles School (Asturias), who presented the essay, "La existencia de Dios a través de las distintas visiones del tiempo" (The existence of God in light of different views on time).
Likewise, two special mentions (a 500-euro monetary prize) were awarded. The first went to Julia Audisio Ródenas, Victoria Carbonell Sánchez and Nazaret Martínez Carcelén, from Nelva School (Murcia), for their essay, "Lo que el mundo piensa del mundo" (What the world thinks of the world). Sabela Fernández Vázquez, from Las Acacias School (Vigo), also received a special mention for her essay, "En un espacio con n dimensiones… ¿Dónde encontramos a Dios?" (Where does one find God in a space with n dimensions?)
The Science and Religion in Spanish Schools Project
The second edition of this essay contest is part of the Science and Religion in Spanish Schools Project and received funding from the John Templeton Foundation. Javier Sánchez Cañizares, CRYF director and Mind-Brain Group researcher within the ICS, directed the contest, along with Rubén Herce, a CRYF member and professor within the School of Ecclesiastical Philosophy.
Each of the project's three academic years is dedicated to a different theme as follows: The origin of the universe and creation (2018-2019), evolution and divine action in the world (2019-2020) and the origin and specificity of man (2020-2021). Related questions are posed in each corresponding edition of the essay contest.
The Education, Science and Religion project within the CRYF organizes this initiative. By analyzing perceived problems in this educational field, it aims to provide possible solutions in the short, medium and long term. It also aims to draw up a map of the main narratives on God and religion used to date in science classrooms, to create a permanent group of professors who periodically address the fundamental pedagogical problems that arise when presenting a vision of the world where science and faith sometimes overlap, and to begin to prepare specific materials for science and religion courses in Spanish to eventually include them in high school curricula.