A Doctoral Thesis analyzes the role played by the Press in the controversy over the confrontation of drug traffic mafias in Mexico
Researcher of ICS, Juan Francisco Padilla, has studied discursive strategies of three most influential newspapers in this country: 'El Universal', 'Reforma' and 'Jornada'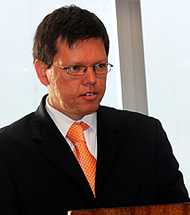 Juan Francisco Padilla.
FOTO: Isabel Teixeira Da Mota
A doctoral thesis presented at the Institute for Culture and Society of the University of Navarra has analyzed the role played by the press in the controversy over the confrontation of drug traffic mafias in Mexico. This work is related to the ICS project 'Public Discourse. Persuasive and interpretation strategies'.
Juan Francisco Padilla, a researcher from Jalisco, has studied the way in which the three most influential newspapers of the country –El Universal, Reforma and La Jornada-have used different discursive strategies, reflecting implicit arguments in accordance with its editorial lines.
The texts being reviewed were published from 2008 to 2011, all of which were published on the front page of each journal on the same day.
Through linguistic interpretation and contrastive analysis of reporting verbs to introduce quotations, such as 'announce', 'admit', 'warn', and 'indicate', Juan Francisco Padilla has attempted to demonstrate how implicit argumentations work through the use of these types of verbs.
He says," the verbs are capable of lending or taking away the credibility of social actors and impose a reading in line with the interest and ideological of the journal in question".
The Identity of the newspapers
Thus," using distancing or approaching techniques with those who made a quotation –legitimizing, delegitimizing or remaining neutral- the newspapers have created an identity", the researcher states.
In this way, the newspaper "Reforma" was the most favorable to President Felipe Calderón and the U.S. Government Officials, while El Universal favored federal officials in the realm of national security. The newspaper, "la Jornada", was on the side of the politicians of the opposition and the social actors who had criticized the federal security strategy.
From his thesis, the researcher plans to compile a dictionary of reporting verbs to be used for introducing quotations in Mexican Spanish, including the argumentative function that these types of verbs have in press discourse.
Contact: Main Library
Campus s/n 31009 Pamplona Spain Tfn: +34 948 425 615 ics@unav.es