"University research provides a critical look that helps society understand the events in our environment"
The Vice-Chancellor of Institutional Communications spoke at the presentation of the Institute for Culture and Society in Valencia with an audience of one hundred persons.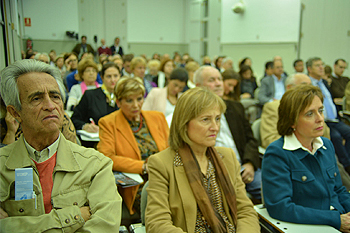 The presentation was sponsored by the Generalitat Valenciana.
FOTO: Carlota Cortés
"In its long experience of research, work the university has a certain degree of expertise in learning in depth that which occurs in our environment. This is what society expects of the university: a critical look that helps us to understand everything that is happening around us". This statement was made by Juan Manuel Mora, Vice-Chancellor of Institutional Communications of the University of Navarra, during the presentation of the Institute for Culture and Society in Valencia.

"At the University we are interested in investigating and we want to share our knowledge so that it has an impact", commented the Vice-Chancellor. In this sense, he referred to the "long tradition" of research of the academic institution in questions such as business, biomedicine, and engineering. "The ICS is a strategic project: we want to set up a center that searches for solutions to other problems that are also relevant", he stated.

Last event of the ICS tour throughout 7 cities

Juan Manuel Mora mentioned the principal strengths of the Institute as well as the social repercussion: the critical mass of researchers who collaborate among each other; their diversity research careers, that enrich the work with different perspectives and focuses; and the internationality..
Together with the vice-chancellor, the general director of ICS, Jaime García del Barrio, and the full professor of economics Luis Ravina, also intervened. The latter presented a talk on the Navarra Center for International Development of the ICS, which attempts to provide solutions for eradicating extreme poverty in countries such as the Philippines, Kenya, South Africa and some Central American countries.

Around one hundred persons attended the conference, which took place in the Palau de Pineda and the event was celebrated with the support of the Consellería de Educación, Cultura y Deporte de la Generalitat Valenciana (Department of Education, Culture and Sports in Valencia). This was the last event in the tour that took ICS to six other cities: Pamplona, Sevilla, Vigo, Barcelona, Madrid y San Sebastian, between September and November of 2013.