Professional prospects
The Degree in Advertising and Public Relations has a wide range of employment prospects: the growing importance of communication in the corporate context leads many companies to hire professionals to carry out these tasks. The work done by our former students includes meeting the communication needs of companies and institutions in a variety of media, and overseeing their relations with their audiences (customers, employees, shareholders and society in general).
The employment prospects for the degree can be grouped into four major areas, although these do not exhaust all the possibilities:
1. Communications director, researcher and strategic consultant in advertising and public relations
Communication area manager, advertising and public relations director for organizations or businesses who establishes contact with various potential audiences, both internal and external, as well as the planning, management and monitoring of the annual communication plan.
To do so, these professionals use their knowledge of the markets and of the tools for communication, monitoring and control.
2. Media researchers, planners and buyers
Professionals who assess the suitability and characteristics of media for the dissemination of communication campaigns, as well as monitoring and tracking audiences for these media and their effectiveness, according to defined communication objectives, all with the goal of reaching a target audience through conventional and non-conventional media, and through the purchase and creation of spaces and advertising vehicles in the best possible conditions.
3. Creatives and designers
Professionals specialized in advertising creativity for all types of media, from conceptualization and visualization of the advertising idea to its adaptation and integration with various media. Within this area we may define the specialties of creative director, art director, editor and webmaster (creativity in the structure of the website). Experts in production and traffic are responsible for the job of carrying out the process through the final artwork and monitoring the physical production of the advertising vehicle.
4. Corporate communication managers
Professionals responsible for the strategic management of image and corporate communication, both in their intangible forms (visual identity, communication and corporate culture) and in their functional interrelationships (financial, commercial, production, etc.), and for establishing constructive dialogue with different, internal and external stakeholders that are relevant to the company. They are also concerned with corporate reputation as a function of the degree to which the corporation fulfills its promises with respect to the stakeholders in question.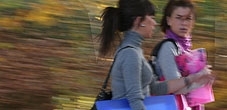 Find out about all the advantages and opportunities that the University of Navarra offers its students and alumni.