International dimension
Since the Erasmus program began, the School of Communication has participated in this European project by signing agreements with various universities throughout the continent. Together with this, the School has signed exchange agreements with many universities in the Americas and Asia.
Currently, the School of Communication offers its students the opportunity to pursue one semester or a full year of their degree program at 29 European universities (Germany, Belgium, Croatia, France, Ireland, Italy, Norway, the Netherlands, Poland, Portugal and the United Kingdom), 17 universities in the Americas (Argentina, Brazil, Chile, Colombia, Mexico, Peru, Uruguay, the United States and Canada), 3 Asian universities (the Philippines and China) and one in Oceania (Australia). Each academic year an average of thirty to forty students from the School travel to one of these centers. In return, our classrooms receive a similar number of international students. In addition, there are 7 agreements only for faculty members.
When they return, students receive academic recognition for their studies overseas. Along with this, the experience of studying overseas makes it easier for students to enter a job market that is increasingly internationalized.
The purpose of the School of Communication's Office of Exchange Programs is to inform students about the requirements and administrative steps needed to be eligible for one of these places in the exchange program. It also addresses the financial aspect of travel, offering information about available scholarships and financial aid. Finally, the office also validates studies undertaken overseas.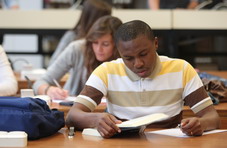 The University encourages student exchange as a means of offering a more comprehensive education. The International Office offers information on scholarships, agreements and activities.