Doctoral degree in Philosophy
Applicant profile
Students wishing to undertake third-cycle studies and therefore gain access to a doctoral degree must demonstrate a high level of achievement in their second-cycle studies, especially in their licentiate degree dissertation or master's project.
If students are members of the clergy (secular or regular), they must have written permission from their superiors and be able to commit to at least one academic year of on-campus work at the University of Navarra. They must also attend, for at least one semester, a number of subjects that are taught as part of the licentiate degree.
Once candidates have fulfilled these requirements and have been provisionally accepted for the doctoral degree, the topic of their doctoral research and research project supervisor must be approved by the Doctoral Committee under the School's Director of Research. This committee will study the feasibility of the project both in terms of its content and the choice of supervisor(s), and make any comments it deems appropriate. Once students are admitted to the doctoral degree and their research topic approved, they will have a period of between two and five years to defend their doctoral dissertation.
Obviously, the project requires respect for the doctrine expressed in the symbols of faith professed by the Catholic Church and for the ordinary Magisterium of the Church.
Contact: Ecclesiastical Studies Building 31009 Pamplona Spain Tel.: (+34) 948 42 56 00 Ext. 802524 Program coordinator:
Prof. D. Sergio Sánchez-Migallón smigallon@unav.es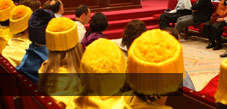 Doctoral School
Find out about the doctoral degree programs at the University of Navarra